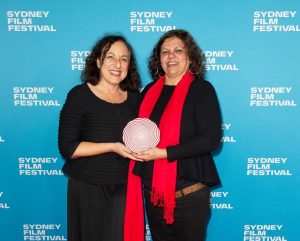 Sydney Film Festival
Documentary Australia Foundation is proud to support the Award for Best Australian Documentary at Sydney Film Festival.
Up to 10 films are selected for the competition, which acknowledges excellence in documentary production and is open to films of any length. The jury awards a cash prize of $10,000 which is presented on SFF's Closing Night ceremony.
The 2019 Award went to She Who Must be Loved, by Erica Glynn.
The 2018 Award went to Ghosthunter, by Sydney Director Ben Lawrence.
The 2017 Award went to The Pink House, by Sascha Ettinger Epstein and Claire Haywood.
The 2016 Award went to In the Shadow of the Hill from Sydney filmmaker Dan Jackson; with a special mention going to Destination Arnold directed by Sascha Ettinger Epstein.
The 2015 Award went to Only the Dead, directed by journalist Michael Ware and two-time Oscar winner Bill Guttentag; with a special mention going to The Lost Aviator directed by Andrew Lancaster.
See the full list of finalists below:
---