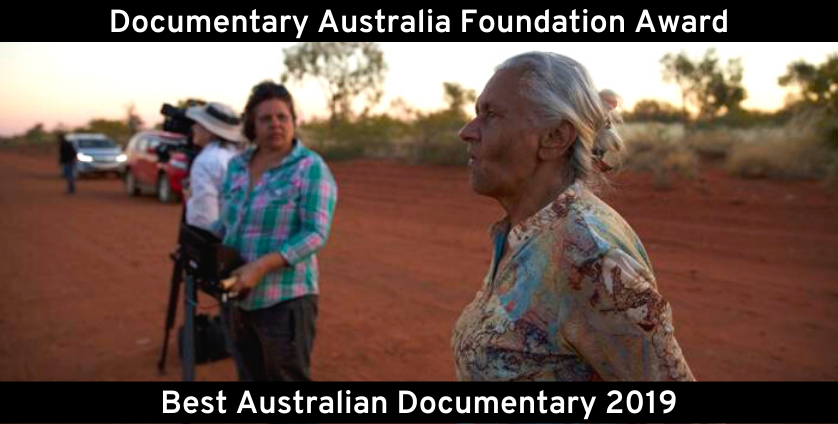 Documentary Australia was proud to support the award for Best Australian Documentary for the sixth year running at the 2019 Sydney Film Festival. The documentaries nominated showcased distinctive stories, covering a fascinating range of issues and styles.
The selection was described as "only a snapshot of the breadth of talent and commitment in the Australian documentary sector, but provide a window into the profound work and commitment our filmmakers have to their subjects" by Dr. Mitzi Goldman,  Documentary Australia CEO.
We have great respect for our documentary filmmakers, and it is an honour to celebrate their excellence in a small way with this award.
---
Best Australian Documentary Award Winner
---

She Who Must Be Loved
The life story of Alfreda Glynn, a 78-year-old Aboriginal woman and co-founder of the Central Australian Aboriginal Media Association.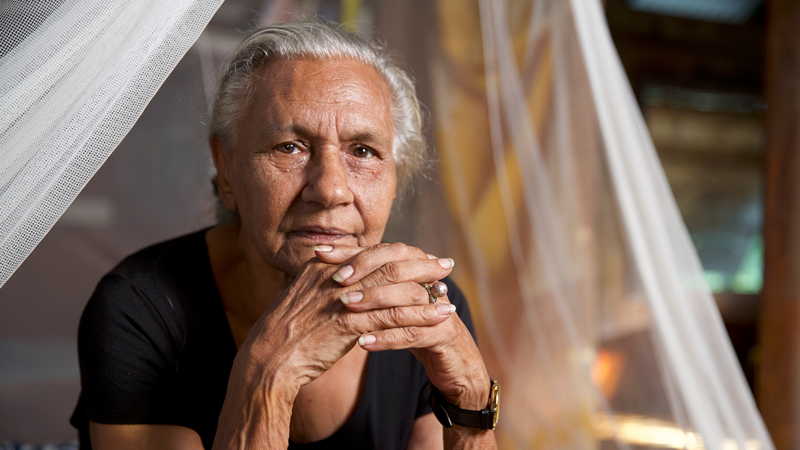 She Who Must Be Loved is a documentary that tells the epic life story of Alfreda Glynn, directed by her daughter Erica Glynn. Born under the Aboriginal Protection policies, in the early 1970s she channelled her formidable energy into establishing the Central Australian Aboriginal Media Association (CAAMA) and later Imparja TV. Not just a bio-pic, it's part social history and part detective story, as the mystery behind her grandmother's death is tracked down. Alfreda Glynn is a 78-year-old Aboriginal woman, stills photographer, mother, grandmother, great grandmother, radical, pacifist, grumpy old woman, who in equal measure loves the limelight and total privacy.
---
Best Australian Documentary Nominees
---
Sanctuary

By Kaye Harrison

Khaled fought against the "beast" of terror when working as an interpreter for the Coalition Forces in Iraq. Born Iraqi but raised in the Netherlands he believes in Western ideals of freedom like any Dutchman. But Khaled couldn't escape the legacy of violence and spends the next 10 years travelling across 4 continents in search of safety. In the age of terror, Khaled is someone to be feared and is treated inhumanely. In 2015 he documents his quest to return home. Will he find sanctuary and have the life he always deserved or will he finally crack and become the "beast" they all fear him to be?
In My Blood It Runs

By Maya Newell

Ten-year-old Dujuan is a child-healer, a good hunter and speaks three languages. As he shares his wisdom of history and the complex world around him we see his spark and intelligence. Yet Dujuan is 'failing' in school and facing increasing scrutiny from welfare and the police. As he travels perilously close to incarceration, his family fight to give him a strong Arrernte education alongside his western education lest he becomes another statistic. We walk with him as he grapples with these pressures, shares his truths and somewhere in-between finds space to dream, imagine and hope for his future self.
The Leunig Fragments

By Kasimir Burgess

An entertaining and revealing documentary portrait of Michael Leunig: Australian cartoonist, writer, painter, philosopher, poet, and playful provocateur. Michael Leunig is best known for his whimsical quivering-line cartoons that have appeared in The Age and The Sydney Morning Herald over several decades. His delightful characters –The Duck, Mr Curly and Vasco Pyjama – have entertained the nation, but he's also been the target of considerable criticism. In this entertaining documentary, the man behind the pen talks candidly about his life and work.
I Am No Bird

By Em Baker

Women spend their lives receiving contradictory messages about marriage: an aspiration, a fantasy, a trap. An ancient institution, whose meaning has been fiercely debated the world over, it can be difficult to pinpoint what marriage means to modern women around the world. To Benay, in Turkey, it means a new beginning and a new family – something she lost with the passing of her mother when she was a child. To honour this, she's getting married on Mother's Day. To Anna, in Australia, it means being made one with her partner and her God, and preparing to lose her virginity. To Luthanlu, in India, it means an opportunity to continue her Rongmei Naga culture, a tribal minority in the north-east of the country. And to Dalia, in Mexico, it means the validation of her relationship with her girlfriend, and hopefully, reconciliation with her conservative mother.
It All Started With a Stale Sandwich

By Samantha Lang

A savvy celebration of the inspirational artworks created for Kaldor Public Art Projects over 50 years, with artists including Christo, Abramovic, Jeff Koons, and Gilbert & George. 50 years ago, Sydneysiders were shocked and the art world astonished by Christo's wrapping of the Little Bay coastline. Hungarian migrant and entrepreneur John Kaldor, who initiated this monumental work, has said "it all started with a stale sandwich, in Christo's studio in 1968 New York." Now, Project 34 (by Asad Raza) is about to be unveiled, and UK artist Michael Landy is designing the exhibition to celebrate 50 years of Kaldor Public Art Projects.
White Light

By George Gittoes

White Light is about child soldiers used as gang hitmen, not in the Democratic Republic of the Congo but in the poor communities of the USA, and how their violent acts are celebrated in the rap lyrics of street poets.

George Gittoes spends time on one block of the Englewood district of Chicago, and we see and hear how gun violence has blighted the lives of everyone, from residents to police officers.
Life After The Oasis

By Sascha Ettinger-Epstein

In 2008, feature documentary, The Oasis, shocked Australia with its gritty insight into the lives of homeless teens at a notorious youth refuge in inner-city Sydney. An outpouring of social and political goodwill followed, with the then Prime Minister pledging to halve homelessness by 2020. A decade later, with social inequality and homelessness worse than ever, the original participants reveal where their lives have taken them.
Lili

By Peter Hegedus

Edie Hart journeys across three continents to find out why her mother Lili abandoned her first baby daughter when she fled her country in the aftermath of the Hungarian Revolution in 1956. Along the way, she opens a Pandora's box into a disturbing family history that has laid dormant for decades. What Edie uncovers is a shocking trail of abandonment that forces her and her family to confront their tragic past. This documentary provides a rare and powerful insight into the legacy of war and forced migration on three generations of women.
Martha: A Picture Story

By Selina Miles

In 1970s New York, Martha Cooper captured the birth of the global graffiti art movement. Decades later, she is celebrated as the an icon, and at 75 years of age she continues to document not only the dynamic street art and graffiti movement but has also produced decades of photographs that capture the humanity and joy of people living on the fringes of society, within subcultures that, if not for Martha, would remain unseen.
---
To view previous winners of the Documentary Australia's Award for Best Australia Documentary click here.