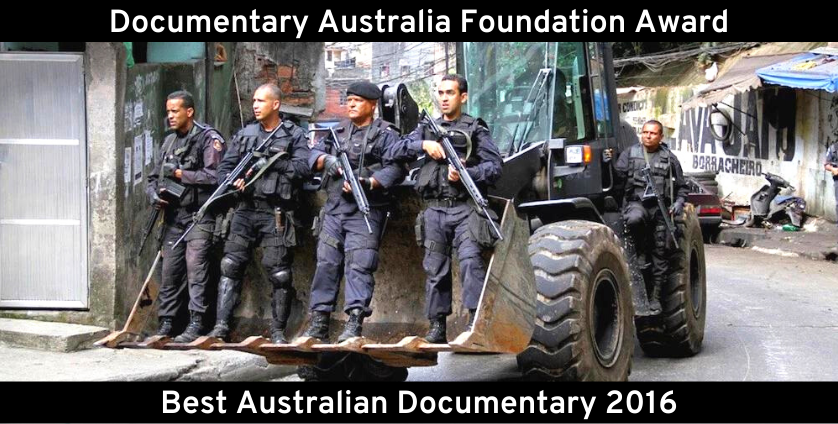 At the 63rd Sydney Film Festival – Documentary Australia supported the Best Australia Documentary Award for the third year.
"Documentary filmmaking is a very strong and internationally regarded sector of the Australian film industry and this award honours the passion and commitment of our documentary filmmakers. It is their vision and tenacity that enables Australian audiences to connect with the meaningful and often untold stories of our lives, our history and the world today", said Documentary Australia CEO, Dr. Mitzi Goldman.
---
Best Australian Documentary Award Winner
---

In the Shadow of the Hill
An unflinching and fascinating insight into life inside Brazil's largest slum, Rochina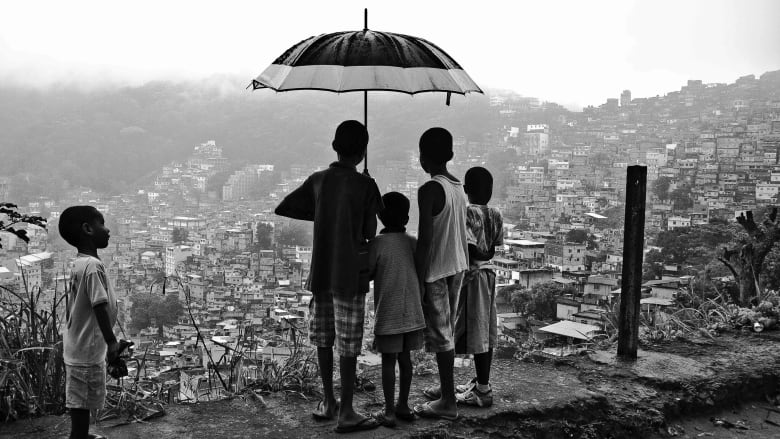 Prior to the 2014 World Cup and 2016 Olympics, Brazil's government initiates a series of 'pacification' programs to retake territories controlled by heavily armed drug cartels. Soon, reports emerge of rampant police abuse, culminating in the disappearance of local bricklayer Amarildo de Souza. Local residents respond with a protest movement that will shake the Brazilian establishment to the core.
---
Best Australian Documentary Nominees
---
Zach's Ceremony

By Aaron Petersen

Growing up isn't easy, especially for Zach who is rapidly making the transition from boyhood to manhood, in both the modern world and his ancient culture. Pressures from his loving, but staunch father, the temptations of city life and the ever present spectre of racism all take their toll. Ultimately Zach must embrace the traditions and knowledge of his ancestors and awaken the warrior within.
Baxter and Me

By Gillian Leahy

This personal reflection by filmmaker and film teacher, Gillian Leahy, raises questions about how we relate to the 'wild' in dogs, and how we relate to other animals (and humans) in the world at large. Gill questions her own relationship with her big brown chocolate Labrador, Baxter. In Gill's idiosyncratic, honest and dogged way, the film takes a walk down Gill's life with dogs, her relationships with people and most significantly her current relationship with the charming and willful Baxter.
Constance on the Edge

By Belinda Mason

Filmed over 10 years, Constance on the Edge is an unflinchingly honest portrayal of one refugee family's resettlement story in Australia. Brave, lion-hearted, charismatic Constance, mother of six, confronts her painful past in war torn Sudan, and risks everything in Australia so her family can thrive. Mary, Constance's niece, finds it impossible to find a job. Vicky, her daughter, studies every morning from 4 am, hoping to get into university. Charles, 23, is struggling with alienation and depression. Constance on the Edge gets to the heart of a contemporary untold story about the courage and resilience it takes to build new lives. The film also highlights the important role communities play in encouraging a sense of welcoming, healing and belonging.
Destination Arnold

By Sascha Ettinger-Epstein

Destination Arnold tells the story of two Indigenous women who share a big dream – to make it to the Arnolds – an invitation-only bodybuilding competition being held in Australia for the first time. To get there they will have to endure months of training, dieting and hard work if they stand a chance of getting up on stage. Throughout the film we follow Tash and Kylene as they push their bodies to the limit sacrificing family and friends all for one purpose.
Embrace

By Taryn Brumfitt

When Body Image Activist Taryn Brumfitt posted an unconventional before-and-after photo in 2013 it was seen by more than 100 million people worldwide and sparked an international media frenzy. EMBRACE follows Taryn's crusade as she explores the global issue of body loathing, inspiring us to change the way we feel about ourselves and think about our bodies.
Hotel Coolgardie

By Pete Gleeson

On a dusty highway between Australia's most isolated city and its largest gold pit lies Coolgardie – where the arrival every three months of a new pair of foreign backpackers to work the only bar in town is a keenly anticipated event. Fresh off the plane and attracted by the idea of an authentic outback experience, Finnish travellers Lina and Steph find themselves en route to a dot on the Western Australia map – to pour beers, replenish depleted travel funds and live amongst the locals
On Richard's Side

By Andrew Wiseman

35-year-old Richard has lived with a severe intellectual disability since birth, having relied on the care and love of his parents, Deirdre and Charlie, friends, family and support workers. A few years ago there was a major change in Richard's life and now his mother Deirdre is fiercely committed to finding answers to the questions: who will care for Richard in the future and what will happen to her son when she is no longer around? Three decades in the making, On Richard's Side is the moving and eye-opening final chapter in filmmaker Andrew Wiseman's trilogy of films about Richard's life, beginning with Driving with Richard (1992) and Wonder Boy (2001). Offering a piercing insight into the everyday trials and joys of living with and caring for someone with a severe disability – as well as shining a much-needed light on the conditions faced by Australia's 2.8 million carers – On Richard's Side is a film of uncommon warmth and understanding that may shred your preconceptions about what it means to live with a disability
The Baulkham Hills African Ladies Troupe

By Ros Horin

The Baulkham Hills African Ladies Troupe is a celebration of the remarkable resilience and spirit of four African women from Eritrea, Kenya, Guinea and Sierra Leone. Aminata, Rosemary, Yordy and Yarrie all fled violence and sexual abuse in their homelands, eventually finding a safe haven in Australia. For years they each held their pain within, until they decided to join a theatre group and speak out. 


Filmed over three years, this new documentary charts the personal journeys of Aminata, Rosemary, Yordy and Yarrie, from their first theatre group meeting through trauma, healing and public triumph, as the Baulkham Hills African Ladies Troupe travels from Western Sydney to the city, to the international stage. 


Heartrending, heartfelt and ultimately uplifting, the film offers a message of hope and support to women and children who have suffered around the world, whether in the context of war, or in a domestic situation.
The Opposition

By Hollie Fifer

Mothers Day, Port Moresby, Papua New Guinea 2012: 100 policemen wielding machetes and guns descend on the Paga Hill Settlement to bulldoze their houses to the ground. Residents are beaten, cut with machetes; the policemen open fire on the crowd. In the melle, Dame Carol Kidu and the Leader of the Opposition Government in Papua New Guinea, there protesting to protect the human rights of the community, is taken away by police. 

This brutal demolition is to make way for the new multi-million 'master planned development' which will include a five star hotel, marina wharf and executive residential apartments – 'a new precedent in PNG'. 

The Opposition is an investigative documentary set in Papua New Guinea where Joe Moses struggles to save his 3,000 strong community before they are forcibly evicted. Despite betrayals, police brutality and risks to his own life, Joe battles through the courts for three years fighting the companies who want to take away his community's home. As the struggle unfolds, Joe recruits a coalition of allies including Dame Carol Kidu, investigator Dr. Kristian Lasslett and a motivated team of pro-bono lawyers.
---
To view previous winners of the Documentary Australia's Award for Best Australia Documentary click here.