SheDoc supports female documentary filmmakers
First launched in 2016, SheDoc is a Documentary Australia initiative to support female documentary filmmakers, proudly supported by CreateNSW and RØDE Microphones.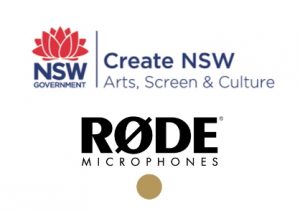 The fellowship program aims to make a pivotal intervention in a woman's filmmaking career and is open to women, resident in NSW, working in documentary at any stage of their career and in any key creative role.
This program will benefit women working in lead creative roles in factual and documentaries.
"We encourage women to continuously seek opportunities to develop themselves professionally, no matter how long they have worked in the industry." – Mitzi Goldman, CEO of Documentary Australia.
---
SheDoc 2019 Winners

The grant will support Charlotte's move from producing into directing and the development of her feature documentary, Muscle.

Charlotte will also be undertaking mentorship from renown visual artist and filmmaker Amos Gebhardt. As part of this, a creative development week will be carried out on Charlottes feature, which is being produced with Rita Walsh.

Charlotte Mars – Producer

Philippa Bateman – Producer

SheDoc will allow Philippa to undertake a producer attachment with Oscar and Emmy Award winning feature documentary director and producer, Alex Gibney's company Jigsaw Productions.

CEO Alex Gibney has offered Philippa a producer placement in New York for four to six weeks in the second half of 2019. Philippa also aims to advance the development and financing of her project American Hunter which Philippa is producing and co-writing with Alex Kershaw.

This grant will allow Vera to develop a feature documentary about the repatriation of the ancestral remains of Mungo Man and kin to the Willandra Lakes Region in NSW. This story will be told through the voices of Traditional Custodians, the Mutthi Mutthi, Barkandji and Ngiyaampa people.

Vera aims to work closely with Mutthi Mutthi elder, Aunty Mary Pappin as writer and cultural advisor and involves a mentorship with acclaimed film producer Bridget Ikin.

Vera Hong – Director
About the SheDoc Grant
Our aim is to award up to 4 grants every two years which will help:
• To encourage new voices;
• To enable skills to be consolidated or developed;
• To assist projects to be kickstarted; and
• To assist in building strategic audience engagement strategies.
By offering funding to facilitate opportunities that are self-directed and of benefit, our aim is to positively intervene in and support women's filmmaking careers.
SheDoc will support travel, research, mentoring, residencies, skills development, seeding new work and the development of impact strategies using documentary. SheDoc is not for production funding.
The initiative is funded by private philanthropic support, with funding from CreateNSW and corporate partner RØDE Microphones.
In addition to the Fellowship funding, RØDE Microphones will offer each of the SheDoc fellowship recipients audio equipment that best meets their needs. They will also offer consultation and advice to the recipients on audio requirements and techniques.
If you would like to find out more information or support the SheDoc program, please contact our CEO, Mitzi Goldman here.
---