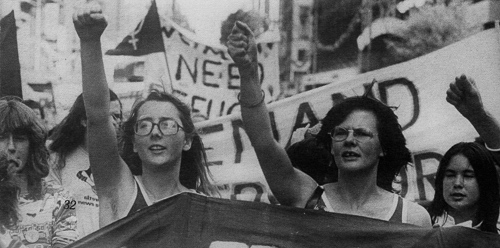 PUBLISHED11 Apr 2022
Strong female leads; a history of advocacating for women's rights
For over a century, women have been fighting to be heard, respected and given equal rights. So where does that leave us in the 21st Century?
June 2022 will mark 120 years since Australia became the first country in the world to give most women the right to vote and the right to stand for Parliament. Yet in 2021, in a survey conducted by Plan International, 72% of young women aged 18-25 said that they would never want a career involved in politics and only 10% believe that parliament is a safe place to work. 
It started for me when I saw a photo of Jacinda Ardern, of a girl after the Mosque shooting, just holding onto Jacinda Ardern and looking up at her. And I saw it and thought, Australian girls don't have that, they've never had that. Girls at that time didn't get that same image of their Prime Minister. They got this shrill woman who was ridiculed the whole time. - Tosca Looby
Yes, that's correct, only 10% of women aged 18-25 believe that parliament is a safe place to work even though the fight for women's rights is over a century old. 
The documentary 'Brazen Hussies', directed by Catherine Dwyer, explores the women's liberation movement in Australia during the 1960s, and how women started fighting for issues such as equal pay, reproductive rights, affordable childcare and the prevention of family violence to be recognised and changed. 
It highlights a number of different perspectives and follows various women's stories, one of them being Elizabeth Reid, who became the first women's advisor to the head of government in the world in 1973. 
While in her role, Reid was sexually harassed, scrutinised by the public and media, and ultimately coerced to resign. With two in five women being sexually harassed in the workplace in the last five years, this story seems all too familiar.
'Brazen Hussies' allows us to reflect on what has been achieved for women's rights over the last couple of decades. 
Today, women make up more than 50% of the workforce, but less than 20% of the CEOs. For the first time ever, 40 of the 76 senators are women, but women make up less than a third of the House of Representatives. 
So what's holding women back?
The women that are represented, from politics to the boardroom, are paid less, talked over and scrutinised for everything from what they wear to whether or not they have children. - Plan International
Tosca Looby's documentary 'Strong Female Lead' follows Julia Gillard's time in parliament as the first female Prime Minister of Australia. It highlights the prejudice against Gillard, and more broadly women in leadership. 
It makes us wonder, after so many years of fighting for women's rights, how did we, as society, tolerate the mistreatment of Julia Gillard? It begs the question; do we learn from history?
If we had a female Prime Minister tomorrow, would they endure the same treatment as Julia Gillard or Elizabeth Reid?
If we don't address the fundamental problems that we have in Australian society about how we treat and value women, how we treat the scourge of family and domestic violence in this country, how we treat the way women and men are treated in schools, I think this is going to keep going. - Deputy Lord Mayor Jess Scully
How we treat women in society bleeds through to our boardrooms, our schools, our parliament. We need to question and change the fundamental structures in our society that enable women to be mistreated and misrepresented. 
The statistics show that one in five women in Australia will be sexually assaulted or raped in her lifetime. In the last five years two in five women have experienced workplace sexual harassment. On average women are earning 22% less than men.
These statistics need to change.
A year ago, advocate Chanel Contos explained that;
Education is our best bet at this stage, in terms of allocation of resources and changing cultures.
In February of this year, national consent education was mandated for all Australian schools, a direct response to Chanel's Teach us Consent campaign.
And preceding International Women's Day this year, a group of prominent Australian women, including Grace Tame, Brittany Higgins, Chanel Contos and Yasmin Poole banded together and launched a campaign to end the injustice and inequity for women in Australia.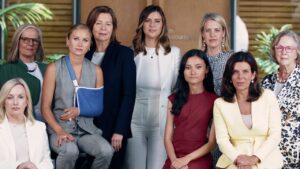 The Safety. Respect. Equity. initiative calls for change, and puts forward recommendations to ensure that every woman in Australia has a safe place to work and live, equal pay, access to eearly learning and care and a justice system that works for survivors. 
Seems familiar, doesn't it? These are the exact issues that women like Elizabeth Reid were advocating for more than 60 years ago in 'Brazen Hussies'.
As the saying goes, history doesn't repeat itself, but it often rhymes. 
And we need to continue fighting, continue speaking up, continue advocating for change, to ensure that sixty years from now history won't rhyme once again.
By Arkeena Mouradian