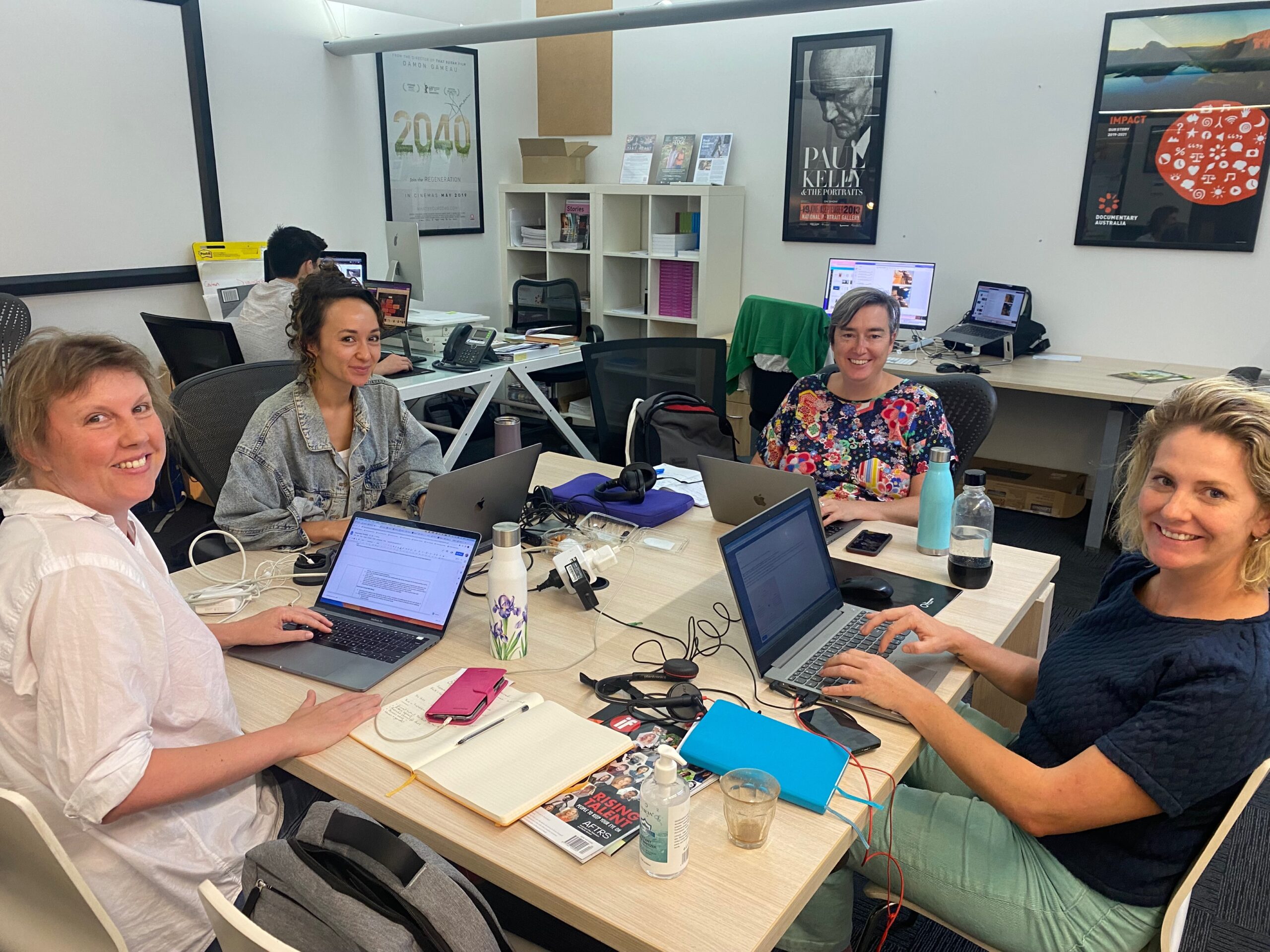 PUBLISHED05 Mar 2023
Impact Producer Program Press Release
Documentary Australia launches inaugural Impact Producer Program.
Innovative program makes an impact on social change filmmaking

(Sydney, March 6, 2023) Four Australian professionals with diverse expertise in social affairs, ranging from academia to international development, are making a career pivot to become the next generation of Impact Producers, thanks to an innovative program launched today by Documentary Australia.
An Australian first, the Impact Producer Program will provide them with invaluable knowledge in the art of documentary storytelling for social change. 
An Impact Producer's role is to design and implement strategic impact and education strategies around social impact documentaries.
The program is made possible through a funding partnership between philanthropic and government agencies including Screen Australia, Screen NSW, VicScreen, The Snow Foundation, The Dyson Bequest and Minderoo Pictures, to the value of $300k in its first year. Each participant receives $50,000, along with invaluable support and guidance by experts in the field. 
Documentary Australia's aim is to share the knowledge base and expertise it has built over the past 15 years to support people in applying their social advocacy experience to strategise, fundraise and leverage documentaries to create change on pressing social issues.
The first four participants are Mel Harwin, Rowena Potts, Natasha Akib, and Andrea Foxworthy, who were chosen from a field of 70 impressive applicants. They will undertake two months of training modules followed by eight months of applied learning on films, mentored and guided by the Documentary Australia team.
Participants will be embedded with the Documentary Australia team and receive mentorship from team members Dr Mitzi Goldman, Lisa Kanani, Lucy Corrigan, Sharlene Dadd and Stephanie King, as well as communications and social media strategists.
The program includes a series of public masterclasses with experts in the fields of impact, film distribution, fundraising, filmmaking, and communications. 
During the 10-month program, each participant will be assigned to different films, chosen from one of the seven Documentary Australia impact areas: The Arts, Environment, Health & Wellbeing, Human Rights & Social Justice, Indigenous, Women & Girls and Youth & Education. 
"At Documentary Australia we are acutely aware of the many pressing social issues that need attention, yet there can be a paralysis of action. However, there is much innovation and change occurring across society," says Documentary Australia CEO Dr Mitzi Goldman.
"The steps towards system transformation seem enormously challenging, overwhelming and at times obscure. Inspiring and coordinating collective actions can grow movements and catalyse long-term thinking, leading to eventual social change. 
"Storytelling has a significant role to play in this endeavour."
Dr Goldman added, "Our unique program provides opportunities for professionals to move into this new and rewarding profession, and to develop their skills within a creative and supportive environment."
A WORD FROM OUR PARTNERS 
CEO of VicScreen, Caroline Pitcher, said, "We are delighted to partner with Documentary Australia to help champion fresh and bold new voices. This exciting initiative is supporting emerging talent with valuable mentorship and hands-on production experience. Documentaries have the power to spark conversations and ignite change, and we look forward to following our talented participants' careers." 
Georgina Byron AM, CEO of The Snow Foundation, says, "Documentaries are a powerful tool for change, but they can be even more effective coupled with an impact campaign, enabling awareness to translate into behaviour change and action.  Documentary Australia is the leading expert in impact producing, and we are so pleased to support this new program, which will increase positive social change." 
Screen Australia CEO Graeme Mason said, "Screen Australia is proud to support Documentary Australia deliver this innovative training program to upskill a new generation of impact producers and meet industry demand for this important position." 
"Screen NSW is delighted to support Documentary Australia's Impact Producer Program that will develop and expand the skill sets and offer hands-on experience to four practitioners to use storytelling to inspire social change," says Kyas Hepworth, Head of Screen NSW. 
Documentary Australia's Impact Producer Program is made possible thanks to the support of its major partners, including VicScreen, The Snow Foundation, Screen Australia, Screen NSW, and Minderoo Pictures, with development support from the Dyson Bequest and venue partner, Shark Island Institute.  
MORE ABOUT THE PARTICIPANTS 
MEL HARWIN 
Mel has more than fifteen years of experience working across international development, social and community sectors within Asia, Africa, and Oceania. She holds a BA in Community Development with published academic research and non-academic impact-focused works and is a freelance social change writer, facilitator, and strategic consultant. 
Some career highlights include; the Australian Governments Gratitude Award – for "Contribution made to assisting Developing Countries to reduce Poverty and achieve sustainable development" (2011 & 2012), SIMNA Award for Innovation in Social Impact (2022), and being invited to keynote at AFCID Conference "Storytelling for insights: using mobile app technology to monitor, measure and communicate impact from local voices"(2021). 
Mel sees impact producing as an opportunity for film to be the critical storytelling tool ensuring audiences can see issues honestly. She has endeavoured through her work to understand, influence or change issues affecting our natural world in authentic ways. To enable broad and diverse audiences to engage with meaning. Creating a community of supporters and advocates who can accessibly understand issues beyond the 'where' 'what' 'who' 'how', to the important 'why'.
ROWENA POTTS
Rowena is a filmmaker, writer and visual anthropologist. Her short films explore a wide range of subjects and have screened at international festivals and museums in the United States, Australia, and Europe. She is a co-founder of the Archival Futures Collective, a group dedicated to making experimental media about our relationship to nature and landscapes on Earth and in outer space. Her writing has focused on collaborative practices in documentary film and photography, and her doctoral research explored the history of First Nations media in Australia, including the emergence and evolution of NITV. Rowena holds a PhD in Cultural Anthropology from New York University and a Graduate Diploma in Documentary from the Australian Film Television and Radio School (AFTRS). She earned her bachelor's degree in Comparative Religion from Harvard University. 
NATASHA AKIB 
Natasha specialises in film production, capacity building, facilitation and campaigning and has over a decade of experience working in the social enterprise and non-profit sectors.   
Natasha is a Co-creator and Director at Digital Storytellers – a B-Corp and social enterprise creating a better future through the power of story. In 2015 Natasha created Stories for Impact - Digital Storytellers' workshops, tools, and resources aimed at democratising media-making by building the capacity of individuals and communities to tell their own stories through their own lens. Natasha has led storytelling programs for organisations such as UNDP Somalia, the World Health Organisation, Central Land Council and Facebook.   
Prior to working with Digital Storytellers, Natasha was the Community Builder at StartSomeGood.com – a crowdfunding platform for social enterprise projects. She also spent time in Bhutan, working for one of the first non-government newspapers, the Bhutan Observer.  
ANDREA FOXWORTHY 
Andrea is Impact Producer of AACTA & Walkley Award nominated feature documentary Franklin (2022). She co-produced (with Philippa Campey of Film Camp) the feature and TV documentary Brazen Hussies (2020), which was nominated for Best Feature Documentary at the AACTA (2020) and AIDC Awards (2021), and was nominated for AACTA Best Factual Program (2021).  
At Sensible Films she worked on the impact campaign of the CinéfestOZ prize-winning Putaparri and the Rainmakers (2015). Andrea produced On Her Shoulders (2011) for UN Women Australia which won Best Short at the 2011 La Mirada Film Festival, screened at Revelation Perth International Film Festival, was broadcast on ABC TV. Andrea co-produced Indonesia Calling: Joris Ivens in Australia (2009, ABC TV/MIFF Premiere Fund).  
Andrea has helped ensure the smooth delivery of many broadcast documentaries including Indian Wedding Race (2016, SBS), Sperm Donors Anonymous (2015, ABC), Devil Island (2013, ABC/ITV/France Television /NGTI), Acid Ocean (2013, SBS/ARTE/SVT/ZDF/WGBH/ZED).  
Publicity Images HERE
ABOUT DOCUMENTARY AUSTRALIA  
Since 2008, Documentary Australia has been Australia's only not-for-profit organisation fostering social impact through storytelling. By offering tax deductibility to donors to support filmmakers, Documentary Australia enables documentaries to be made and seen, and to make a positive social impact. To date, Documentary Australia has facilitated over $35 million in philanthropic funding.  Website: documentaryaustralia.com.au 
Media Contact: eckfactor Karen Eck, 0438 532569 Karen@eckfactor.com