The 62nd Sydney Film Festival has continued to showcase some of the best films from across the world with over 250 screenings over 12 days.
Lord Mayor Clover Moore said, "This year's Sydney Film Festival was another hugely enjoyable triumph. With more than 300 screenings of the best local and international cinema, we've seen the world through the eyes of some of the most exciting directors, screenwriters and cinematographers."
Documentary Australia is proud to be a supporting partner of the award for Best Australian Documentary Award – recognising the talent and dedication of Australian documentary filmmakers.
---
Best Australian Documentary Award Winner
---

Only The Dead
The story of what happens when one ordinary man, an Australian journalist transplanted into the Middle East by the reverberations of 9/11, butts into history.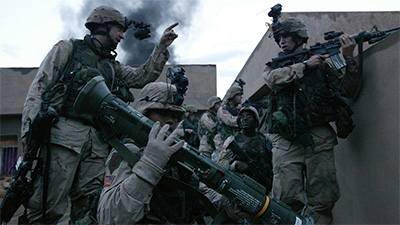 Only the Dead is the story of what happens when an ordinary Australian journalist is transplanted into the Middle East by the reverberations of 9/11 and embarks on a journey that courses through the deepest recesses of the Iraq war. The invasion of Iraq has ended, and the Americans are celebrating victory in 2003.
All the while however, alone and in secret, Abu Musab al-Zarqawi, the most vicious Al Qaeda leader the world has ever seen, is planning the real war. He lays out his plan in a letter to Osama Bin Laden: the suicide truck bombings; the bloody horrors of the civil war; the televised beheadings. He carries out his grand design to perfection, bringing the country to its knees… and he does it all on camera. And then, when he's finally ready to "go public" as he foretold Bin Laden, what does Zarqawi do with the film that will shock the world & change the war forever? He gives it to Michael Ware. Of all people. A hard-drinking, hard-running, maverick Australian reporting for American news outlets. The tape Zarqawi gives him, sets our correspondent off on an epic voyage seeking the truth.
---
Best Australian Documentary Nominees
---
Freedom Stories

By Steve Thomas

Freedom Stories is an exploration of the achievements and struggles of former 'boat people'. Now Australian citizens, they arrived seeking asylum from the Middle-East around 2001 – a watershed year in Australian politics sparked by the Tampa affair and Prime Minister John Howard's declaration: "We will decide who comes to this country and the circumstances in which they come". Some were only children when they found themselves in indefinite mandatory detention in remote places such as Woomera or Nauru and then placed on temporary protection visas, which extended their limbo for years. It has taken astonishing resilience and over a decade for them to build secure lives and start contributing to their new country. These are ordinary people who found themselves caught up in the extraordinary consequences of political brinkmanship but have long since dropped out of the media spotlight. They live among us now and given the Government's boast that it has 'stopped the boats' it is time for their voices to be heard.
Wide Open Sky

By Lisa Nicol

Wide Open Sky is an uplifting documentary about a children's choir in a remote corner of outback Australia. Out here, footy is king and music education is rare as rain. The children travel far from home to music camp to prepare for a big concert in Coonamble. They have three days to learn a demanding repertoire. Wide Open Sky follows four primary-aged children brave enough to dream big. While the choir means something different to each of them, it matters a hell-of-a-lot to all of them. Moving and funny, the film reminds us why no child, anywhere, should grow up without music.
The Bolivian Case

By Violeta Ayala

The Bolivian Case is a character driven film about two of the world's biggest businesses: the media and drug trafficking. Following the stranger than fiction stories of the three Norwegian girls, the film will take the audience from a jail in one of the world's poorest countries, to a court in the world's richest, giving an insight into the power mainstream media has in shaping justice.

A portrait that looks into society's moral dilemma, questioning the disparity in the consequences for three girls who were caught committing the same crime.
The Cambodian Space Project: Not Easy Rock'n'Roll

By Marc Eberle

In a Phnom Penh karaoke bar in 2009 Australian musician Julien Poulson hears the extraordinary voice of poor village girl Srey Thy. The result is tempestuous cross-cultural romance and the birth of The Cambodian Space Project, a thrilling musical explosion that wows audiences worldwide with sounds from the 1960s and '70s golden age of Cambodian rock. Filmed over five years this intimate documentary tells the story of performers whose struggle to overcome poverty, trauma and obscurity has never been easy.
Gayby Baby

By Maya Newel

Kids being raised by same-sex couples are growing in numbers worldwide. We are in a Gayby-Boom. But who are these kids? What do they think about having same-sex parents? And do they face different issues to other kids? During the global marriage equality movement, these questions have become more pertinent than ever. Told from the perspective of the kids, Gayby Baby is an intimate and sometimes humorous account of four children and their families.
The Lost Aviator

By Andrew Lancaster

Against his family's wishes, Andrew Lancaster opens up a cold case from 1932 where his uncle, Bill Lancaster, a pioneering aviator was on trial for murder in Miami. In an attempt to understand Bill's sometimes foolish actions, and at risk of tarnishing his family name, Andrew revisits this epic tale of high risk adventure, romance and scandal. Set in one of the most rebellious eras of our time, he reveals a love triangle gone terribly wrong and a mysterious discovery of a mummified body in the Sahara desert, along with a love letter found 29 years too late.
Screen: Black – Songlines on Screen

–

Songlines on Screen is a special collaboration between Screen Australia and NITV that presents 10 short films from the remote regions of Western, Northern and Central Australia. These films represent Aboriginal people's ongoing connection to land and culture as told throughout time by the way of creation songs.
Tyke Elephant Outlaw

By Susan Lambert

Honolulu, August 20, 1994. Tyke the elephant goes on a rampage. What happens next will traumatise a city and ignite a global battle over the use of performing animals. Tyke Elephant Outlaw is a gripping and emotionally charged documentary about one elephant's break for freedom and the profound questions it raised about our connection to other species.
Women He's Undressed

By Gillian Armstrong

A documentary about the life of Oscar-winning costume designer Orry-Kelly, who helmed costume design for 282 motion pictures and designed for the likes of Marilyn Monroe, Bette Davis, Humphrey Bogart, Rosalind Russell, Errol Flynn, and many more immortals of classic Hollywood. Witty and outspoken, Orry-Kelly was uncompromising in his sexuality at a time when Hollywood was deeply conservative.
---
To view previous winners of the Documentary Australia's Award for Best Australia Documentary click here.