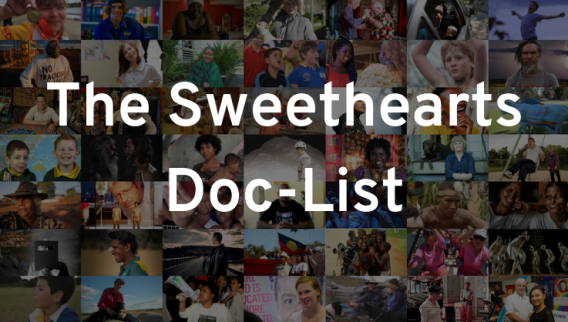 PUBLISHED13 Jul 2020
The Sweethearts Doc-List
A special playlist including some of Documentary Australia Foundation's sweetheart projects.
These are films from across our impact areas that exemplify how the power of storytelling can be used as a tool for social change.
These projects have successfully drawn in audiences with raw emotional stories, sparking a connection that drives important conversations. The films have continued to build momentum by engaging people in social action through their impact campaigns, showing them how change can be affected.
Synopsis
The 2040 journey began with award-winning director Damon Gameau (That Sugar Film). Motivated by concerns about the planet his 4-year-old daughter would inherit, Damon embarked on a global journey to meet innovators and change-makers in the areas of economics, technology, civil society, agriculture, education and sustainability.
Drawing on their expertise, he sought to identify the best solutions, available to us now, that would help improve the health of our planet and the societies that operate within it. From marine permaculture to decentralised renewable energy projects, he discovered that people all over the world are taking matters into their own hands.
Undermined: Tales from the Kimberley
Synopsis:
Australia's vast and unspoiled Kimberley region is under threat, with mining, pastoralism and irrigated agriculture driving an unprecedented land grab. Undermined investigates the politics of an area ow branded "the future economic powerhouse of Australia", and what this means for our First People and their unique cultural landscapes. As pressure from industry exposes the limits of Indigenous land rights, what will remain of over 200 remote Aboriginal communities? We follow young leader Albert Wiggan, veteran cattleman Kevin Oscar and Senior Elder June Davis through David-and-Goliath battle to preserve their homelands, asking the question: for whose benefit is this development?
Synopsis:
Ten-year-old Dujuan is a child-healer, a good hunter and speaks three languages. As he shares his wisdom of history and the complex world around him we see his spark and intelligence. Yet Dujuan is 'failing' in school and facing increasing scrutiny from welfare and the police.
As he travels perilously close to incarceration, his family fight to give him a strong Arrernte education alongside his western education lest he becomes another statistic. We walk with him as he grapples with these pressures, shares his truths and somewhere in-between finds space to dream, imagine and hope for his future self.
Synopsis:
The Show Must Go On is the first film to tell the story of the mental health of the 42,000 people working in the Australian entertainment industry. While 'show business' is often seen as glamorous, fun, exciting, and well paid, recent and alarming world first research from Entertainment Assist and Victoria University paints a darker picture for entertainment workers. Anxiety symptoms are 10 times higher, sleep disorders are 7 times higher and symptoms of depression are 5 times higher than the national average. Suicide attempts in the industry are double the national average.
Where to watch – ABC Iview
Synopsis:
Adam Goodes was a champion AFL footballer and Indigenous leader.
In the final three years of his playing career he became a lightning rod for a heated public debate and widespread media commentary that divided the nation. He publicly called out racism, was named Australian of the Year, was accused of staging for free kicks, and performed an on-field war dance celebration.
The cheers became boos as football crowds turned on him.
Using only archival footage aired at the time, the film holds a mirror to Australia and is an opportunity to reconsider what happened on and off the football field.
Where to watch: Filmmaker Website