PUBLISHED28 Oct 2020
The Staging Post Case Study
Courageous people never give up!
Synopsis
The Staging Post follows three Afghan Hazara refugees, Muzafar, Khadim, and Tahira. Stuck in limbo in Indonesia after Australia 'stopped the boats', they built a community and started a school that inspired a refugee led education revolution. A film about friendship, connection and the power of a borderless community.
Film Team
| | | | |
| --- | --- | --- | --- |
| Director & Producer | Cinematography | Editor | Sound |
| | | | |
| Jolyon Hoff | Khadim Dai |  Vladimir Jovicic | Mario Gabrielli |
Context
In 2013, when Australia reinstated an offshore detention policy to 'stop the boats', around 15,000 refugees were left stranded in Indonesia with no option to resettle in Australia. Cultural attitudes were influenced by a moral panic about 'boat people', and attitudes towards refugees were broadly negative.Australian filmmaker Jolyon Hoff went to Cisarua in Indonesia, the departure point for refugees known as "the staging post", to learn more.
The Staging Post documents the crucial first years of the development of the refugee-led community, schools and self-determination, in a time when the United Nations High Commissioner for Refugees banned refugee group activities. It is a tool for changing the narrative about refugees to a story of resilience and hope. It has spanned years and continents, and continues to be a tool of connection for the charity, school and resettlement initiatives created during and after filming, the Cisarua Refugee Learning Centre.
Key message
The film captures the power of borderless community and refugee self-determination. Building community comes from trust, understanding, and ongoing sustainable relationships of care and agency.
Target audiences
Asylum-seekers and refugees.

Advocacy groups with an interest in refugee and education initiatives.

The UNHCR and the International Organisation for Migration, and other refugee bodies.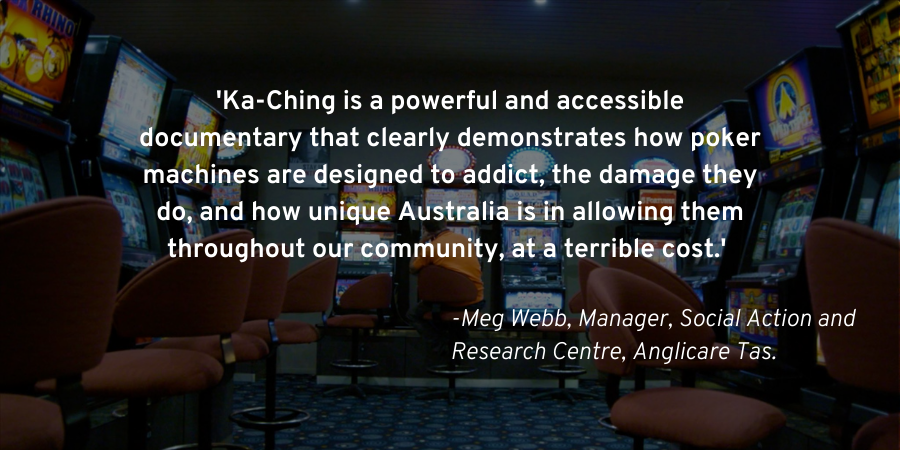 Partners and Allies
Cisarua Refugee Learning Centre

Refugee Council of Australia

Australian Education Union

Australian International School

Rural Australians for Refugees
Campaign Roll-out
Khadim was an aspiring filmmaker, and Muzafar was a photographer for the UN and National Geographic in Afghanistan. Joylon assisted Khadim in making a short film about his experiences, and the experiences of his peers. This began the social media presence that would become the beginning of a borderless community supportive of the CRLC, and the film The Staging Post. 
2014: Social media platforms began to support the Cisarua Refugee Learning Centre
July 2017: Refugee Week- released the film at 2 premiere screenings in Sydney and Melbourne, as well as a screening in Canberra which sold out. 
July 2017: People started to participate and held their own screenings; the team assisted them as much as possible by attending Q&As, etc. 
2017-2018: Held various screenings internationally and in Australia with screening requests from various groups.
2018: Screened in Greece at the International Association for the Study of Forced Migration. 

February 2018: Spoke at the Refugee Alternatives Conference and launched the DVD of

The Staging Post

.
June 2018: Presented by the Australian National Maritime Museum, as well as many other targeted screenings, as part of Refugee Week.
2018: When possible, cinemas were booked for "premiere events", but the team also organised community screenings; word of mouth spread after every screening. 

2018:

The Staging Post

was released on DVD.
2020: Australia-wide and internationally, the film continues to be screened, including online as part of World Refugee Day 2020. 
June 2020: Screened 2 times a day for every day of Refugee Week, with each screening involving an introduction from Muzafar Ali, and a live discussion with the refugees in the Cisarua Refugee Learning Centre.
June, 2020: Study guide, co-created by Australian Teachers of Media (AToM) is released.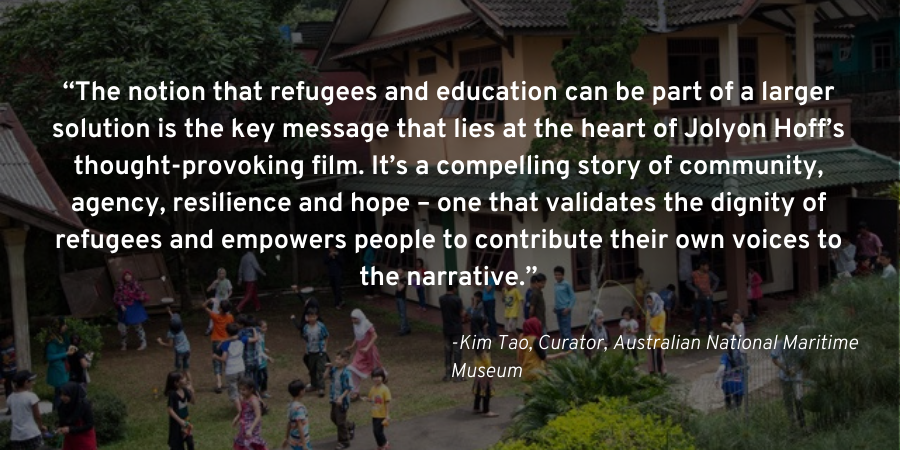 Reach and response 
The film has reached at least 30,000 people globally through hundreds of community and school screenings, including successfully filling all four of the Bowral Empire Cinemas simultaneously. 

78 VHX purchases, 109 Vimeo on Demand Purchases, and 800 DVD purchases
Screened at almost all universities across Australia, including being played on Kanopy 1,720 times, as well as 47 school licence sales.
Awarded the High Commendation by the Australian Directors Guild for Best Direction of a Documentary Standalone Project 2018
Generated media coverage in Australian newspapers and Indonesian TV, as well as BBC World.

It was praised by Film Ink

for its 'honest portrayal of refugee life' and described as 'an important and uplifting documentary that reminds you that we are all human and capable of making change' (

Here

)
Impact
The film has elevated refugee voices, empowering them to be seen and understood.
It has provided a new narrative about refugee people

, their experience and importantly their resilience to find community solutions.

Australians have, through the film, experienced a first-hand human connection with refugees in Indonesia, leading to increased awareness, empathy, and networks around the world as well as reflection on current government refugee policy
The film enhanced the work of the people featured in it, both at the CRLC and beyond- including the work of Muzafar who is now a key refugee leader in Australia- and Tahira who has arranged sponsorships for four immigrants as part of their resettlement to Canada and uses the film to educate Canadians about the Hazara community.
Nearly $500,000 has been raised for the CLRC, which has become a place for psychosocial support as well as education.

It has grown significantly to nearly 300 students as well as 20 volunteer refugee teachers, with continual improvements to curriculum and increased sustainability.
The increased visibility of the centre through the film has inspired the establishment of ten new schools in the area, teaching almost 2,000 refugee children in Indonesia.
The film has contributed to increasing support for the refugee-lead movement, released at a time when the sector was grappling with how to implement a refugee- led approach. It facilitated increased awareness of the CLRC and their model amongst key refugee advocates and provided a successful example of a community led initiative inspiring new thinking about possible solutions. It has played an important role in supporting this shift in thinking, encouraging organisations to consider their role in supporting grassroots, refugee-lead projects, rather than just introducing 'top-down' programs of support.
It has contributed to educational outcomes in schools and universities, being used extensively by university lecturers and teachers as a part of their curriculum. Student feedback reveals the film has had an impact on awareness, learning as well as motivations to improve the situation for refugees and asylum seekers.
"[Muzafar's] story, humility and caring for the refugee community in Cisarua was overwhelming. Our students, staff and other guests were so humbled by his visit." (Patti Frawley, Ascham School. Few of the school students are of immigrant background).
The public profile of the refugees in Indonesia has encouraged the UNHCR to engage more thoroughly with the refugee community. Policy changes have since occurred to allow refugees to have their own schools. Over several years, this has created a strong, vibrant and resilient community. The CLRC now provides a space of the United Nations High Commissioner for Refugees (UNHCR) to share messages with the community, and the managers of each of the schools congregate each month to discuss local issuesx
Wrap up & what's next
The film project has never stopped. The real-life timeline of The Staging Post finished with Khadim leaving for America in 2015 and the film team have continued to film and accompany the community in Indonesia, as well as film the journeys of the key characters in Canada, the United States and Australia.
The Staging Post sequel will be completed in 2021 and follows the story of 21 year-old Farahnaz Salehi who is still living in Indonesia. Farahnaz joined the Cisarua Refugee Learning Centre on its first day on 2013. At the school she discovered that she could be more than a housewife and mother, and become the art teacher and a leader in the community. Now, after 10 years living as a refugee, she is starting to wonder if the world will ever give her a chance. Each week she films a to-camera diary piece about her life and the situation in Indonesia for the refugees. Her highly visual and evocative observations are amusing, emotional and engaging and present an extremely private and erudite insight into life as a refugee.
There are now over 10 refugee-led schools in Indonesia and nearly 2,000 refugees getting education from 100 volunteer refugee teachers, Farahanaz's story will be woven into the broader story of the refugee-led education revolution that she, and The Staging Post, helped inspire.