PUBLISHED02 Nov 2021
Telling Tough Stories: The Children in the Pictures
A virtual discussion about safety, storytelling and protecting kids online.
How do you tell a story about something most people can't bear to speak about? The Children in the Pictures investigates the dark world of online child sex abuse and the incredible people fighting to save kids from abuse. But how can we tell tough stories like this and what impact does it have on the people involved?
Documentary Australia Foundation is proud to present TELLING TOUGH STORIES, a free online panel discussion with the filmmakers of The Children in the Pictures and experts from the film.
Our special panel includes –  Writer/Director Ahkim Dev Director/Producer Simon Nasht and Head of Victim Identification Unit for Task Force Argos, Paul Griffiths
---
The Conversation
---
The Children in the Pictures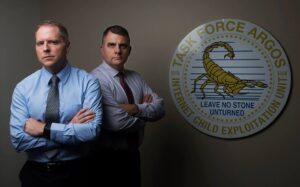 The Children in the Pictures takes us inside Task Force Argos, a specialised police investigative team dedicated to protecting children from online sexual abuse. Argos infiltrates these global criminal networks, catching the predators and rescuing their victims.
This is the fastest-growing serious crime in the world and Argos is the thin blue line fighting a hi-tech, cat and mouse game where the stakes are the lives of innocent children.
---
The Panel
-Akhim Dev – Writer/Director, The Children in the Pictures
Akhim Dev has over 20 years of experience in broadcast television and digital content. His credits include writing and directing on 'The 3G of US' for SBS, 'Storm Surfers' for Firelight Productions, and 'The Final Sacrifice' for Discovery and National Geographic.
– Simon Nasht – Director/Producer, The Children in the Pictures
Simon Nasht is one of Australia's most experienced documentary filmmakers. He has won many local and international awards including AFI Awards, Logies, AWGIES, the Eureka Prize for science journalism, and was the first filmmaker to be nominated for the coveted Prime Minister's History Prize.
– Paul Griffiths – Head of Victim Identification Unit, Task Force Argos, Queensland Police Service
Paul Griffiths is the Child Victim Identification Manager for Queensland Police Service in Australia, where he has worked since 2009. Paul has a degree in Mathematics from Lancaster University and was a police officer in the UK for over 18 years. Much of that time was spent investigating online child abuse. To date, 1300 child victims have been identified as a result of the work of the team at Queensland Police Service.