PUBLISHED13 Sep 2021
Strong Female Leads
A discussion of leadership, sexism and cultural change - from women who are leading the way.
Documentary Australia Foundation is proud to present STRONG FEMALE LEADS, a free online panel discussion with the filmmakers of Strong Female Lead and a panel of women leaders.
Our special panel includes – Writer & Director Tosca Looby, consent education advocate Chanel Contos, youth advocate Yasmin Poole and Deputy Lord Mayor Clr Jess Scully. This special panel will be moderated by Catalina Florez, SBS World News.
---
The Conversation
---
Strong Female Lead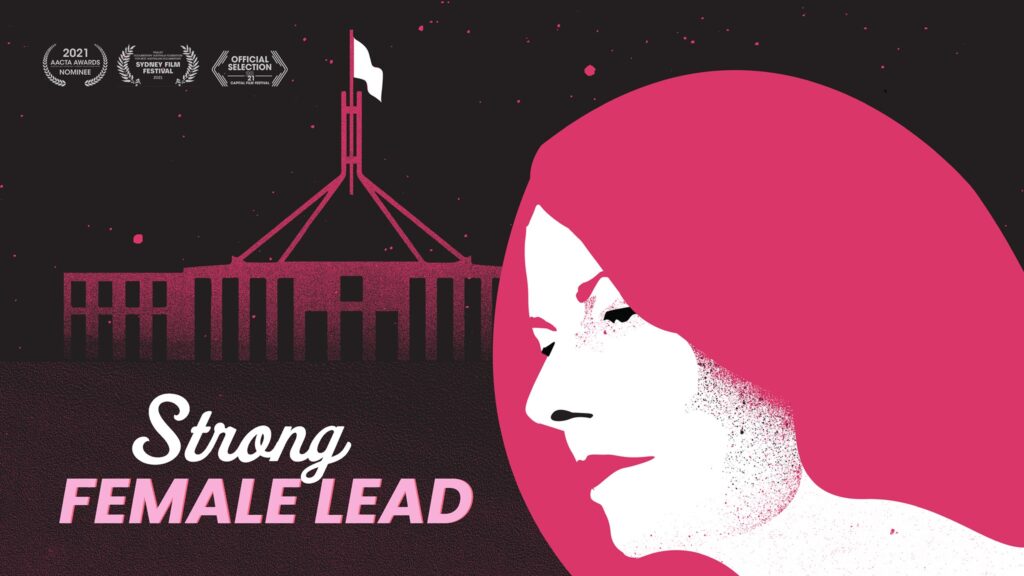 One in three Australian women experience discrimination or harassment in the workplace. Australia's first and only female prime minister, Julia Gillard, was one of them. Strong Female Lead tells the tale of our only female prime minister and how, over the course of her leadership, her gender was used as a demerit and a point of weakness. This film reveals the shape and sound of sexism in Australian politics – and how we can change it.
---
The Panel
Tosca Looby – Writer/Director, Strong Female Lead
Over twenty years working in factual television, Tosca Looby has honed her storytelling skills on diverse and often difficult subjects, creating complicated thesis dependent works on issues including international child abduction, modern parenting and Asian poaching rings.
Her latest series featuring the work of Walkley award-winning journalist Jess Hill, 'See What You Made Me Do', has been called "one of the most important documentaries you'll ever watch". 'Strong Female Lead' is her original idea and passion project.
Chanel Contos – Founder, teachusconsent.com
Yasmin Poole – National Ambassador, PLAN International
Yasmin is an award-winning speaker, writer and youth advocate. She is Plan International's National Ambassador and champions the importance of young women being heard in Australia's political conversations. She has also appeared on prominent television programs such as Q+A, The Drum and The Project.
Yasmin is the Non-Executive Board Director of OzHarvest, Australia's leading food rescue charity and YWCA, a national feminist organisation that has supported women and girls for 140 years.
In 2019, Yasmin was the youngest member of the Australian Financial Review 100 Women of Influence and Top 40 Under 40 Most Influential Asian Australians. She was most recently named The Martin Luther King Jr Center's 2021 Youth Influencer of the Year.
Clr Jess Scully – Deputy Lord Mayor, The City of Sydney
Jess Scully uses creativity to engage people in the future economy and with urban life in the twenty-first century, working towards a sustainable and inclusive world. In 2019 she was elected as Deputy Lord Mayor of the City of Sydney and has been a councillor since 2016.
Previously, Jess founded Vivid Ideas, Australia's largest creative industries event; supported emerging talent through projects such as the Qantas Spirit of Youth Awards; sparked new thinking through TEDxSydney and transformed public space as a public art curator. She has also worked as a policy advisor, radio host and magazine editor.
Her first book, Glimpses of Utopia, was published by Pantera Press in August 2020.
Catalina Florez – Presented & Journalist, SBS World News
An award-winning broadcast journalist of more than 13 years, Catalina Florez has covered everything from leadership spills and federal elections to bushfires and droughts.
After spending three years in Canberra's press gallery for Ten News, she became the Network's first female Political Editor based at NSW Parliament House. Colombian born and fluent in Spanish, Catalina is now a cross platform journalist and presenter at SBS World News.
During her career, she has broken stories about children in detention and the mistreatment of international students during the covid-19 pandemic.