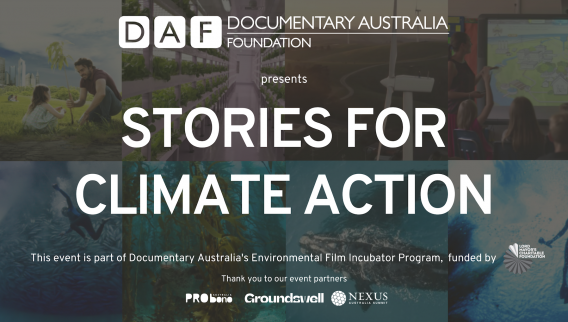 PUBLISHED08 Apr 2020
Stories for Climate Action
In the post-truth world where facts are often ignored, how can the power of story be harnessed to drive action and meaningful change?
Stories for Climate Action was Documentary Australia's first interactive, virtual masterclass focused on exploring the impact campaigns of highly successful environmental documentaries 2040 and BLUE.
This event formed part of Documentary Australia's Environmental Documentary Incubator, a program made possible with the support of Lord Mayor's Charitable Foundation, which is focused on creating collective impact by building capacity in the film and advocacy sectors.
Prior to the event, attendees were given access to both documentary projects, giving them time to watch these powerful films and form questions for the live panel on the night of the event.
Our special guest panel included 2040's Damon Gameau and Anna Kaplan, BLUE's Sarah Beard and Greenpeace CEO David Ritter, hosted by Dr Mitzi Goldman. The speakers discussed the various ways they'd employed documentaries to incite social change and the challenges faced,  providing audiences with a night filled with "richness of ideas, suggestions and insight".
"Despite the subjects being discussed being deeply disturbing, the event was filled with hope and solutions to climate change"
2040 is an award-winning hybrid documentary written and directed by Damon Gameau, who embarks on a journey to find the best technologies and practices available today, that can help improve the health of our planet and its inhabitants. This project was been featured at the 2019 U.N. Climate Action Summit and has successfully raised over $1.6 million for climate change solutions. You can watch 2040's impact summary here.
BLUE is a ground-breaking journey into our oceans, showing us the irretrievable changes mass industrialisation, habitat destruction and pollution are driving. This project has reached over 3 million people and been globally recognised for advancing marine conservation objectives. You can read more about BLUE's impact campaign in our case study here.
Stories for Climate Action Recording
Interested in supporting our work?
Our commitment to collective impact has continued to make waves. Following this event, our New Stories for Climate Action event featured upcoming documentary projects, whose aim to continue educating and engaging the public on climate change and environmental action.
 You can read more about the Environmental Documentary Incubator and New Stories for Climate action here, or, support Documentary Australia Foundation's work here.