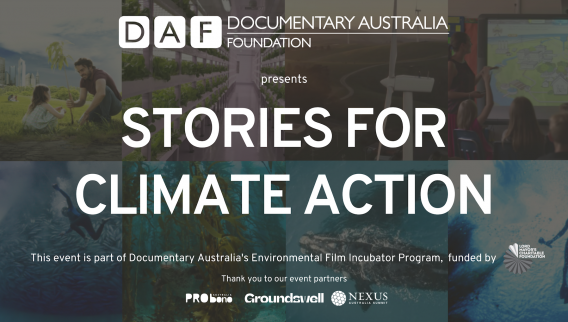 PUBLISHED08 Apr 2020
Stories for Climate Action
In the post-truth world where facts are often ignored, how can the power of story be harnessed to drive action and meaningful change?
Event Details
Registrations close 10th of May 2020
Join us for Stories for Climate Action – a live, interactive virtual masterclass – and discover how the documentaries 2040 and BLUE have used stories to engage audience, drive action and build movements.
Featuring a live panel discussion with 2040's Damon Gameau and Anna Kaplan, BLUE's Sarah Beard and Greenpeace CEO David Ritter, hosted by Dr Mitzi Goldman, this masterclass will allow attendees to watch both award-winning films and ask questions directly to the teams that made them as we unpack:
– Why changing the story is key to driving action on climate change;
– How the award-winning documentaries 2040 and BLUE have used the power of story to build movements for positive environmental impact;
– Insights on how films can be used in traditional campaigns from Greenpeace; and,
– What actions we can still take to advocate for the environment in these unprecedented times.
How it works:
A week before the live event: Attendees will receive links to watch both 2040 and Blue, which will remain active until the day of the event. You will also be able to submit questions to be asked during the Q&A.
On the day: Attendees will receive a link to login to a private webinar and be able to participate in a live Q&A with our panel.
Stories for Climate Action is part of Documentary Australia's Environmental Documentary Incubator, made possible with the support of the Lord Mayor's Charitable Foundation. The Environment Documentary Incubator is part of Documentary Australia's goal to create collective impact. We understand the far reaching and lasting change one film can create. Our Environmental Incubator aims to amplify this by building capacity across the film and advocacy sector in how stories can drive change.