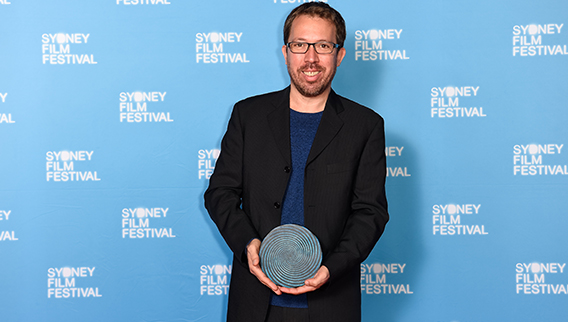 PUBLISHED09 May 2019
Sydney Film Festival 2019 Documentary Australia Foundation Award Competition Finalists
The 66th Sydney Film Festival has announced the return of Documentary Australia Foundation Award at the 2019 Festival, with 10 finalised and a $10,000 cash prize to the winning film. 
From Wednesday 5 June to Sunday 16 June 2019, the 66th Sydney Film Festival offers Sydneysiders another exciting season of cinema amidst a whirlwind of premieres, red-carpet openings, in-depth discussions, international guests and more.
The ten films in the Documentary Australia Foundation Award competition are: I Am No Bird, In My Blood It Runs, It All Started With A Stale Sandwich,The Leunig Fragments, Life After The Oasis, Lili, Martha: A Picture Story, Sanctuary, She Who Must Be Obeyed Loved, and White Light.
I Am No Bird
Director Em Baker is a filmmaker from Melbourne, Australia. Her documentary Spoke won the Audience Award at the Melbourne Documentary Film Festival. I Am No Bird is her feature debut. What do weddings mean to modern women? Four very different women from Australia, India, Mexico and Turkey prepare for their weddings, each one with different significance.
In My Blood It Runs
Director Maya Newell in collaboration with Dujuan Hoosan, Carol Turner, Margaret Anderson, Megan Hoosan, James Mawson. Newell's documentary Gayby Baby screened at SFF 2015. The documentary takes you to a rare insight into the world of 10-year old Dujuan, an Arrernte/Garrwa boy living in Alice Springs who is a child-healer, speaks three languages yet is 'failing' in school.
Life After the Oasis
Director Sascha Ettinger Epstein's documentaries include Painting with Light in a Dark World(2003), The Oasis (2008), Destination Arnold (SFF 2016), and The Pink House (SFF DAF winner 2017). Where are the lost kids of 2008's confronting documentary The Oasis? This follow-up film revisits Sydney homeless teens whose chaotic lives shocked the nation.
Sanctuary
Kaye Harrison was director/DOP of award-winning Australian documentaries Crossing the Line (2005) and The Long Goodbye (2010). Her documentary The Sunnyboy premiered at the 2013 Sydney Film Festival.Sanctuaryis an intimate story of Khaled, a young man struggling to hold onto his humanity as he searches 10 years, across continents, for peace and freedom.
The Leunig Fragments
Kasimir Burgess's filmmaking mines the territory between art, music and cinema. Films include the award-winning shorts Lily and Directions, and The Man Who Could Not Dream, and feature Fell (SFF 2014). The Leunig Fragmentsis an entertaining and revealing documentary portrait of Michael Leunig: Australian cartoonist, writer, painter, philosopher, poet, and playful provocateur.
White Light
George Gittoes has been making unique, award-winning films since 1977. Films include: Soundtrack to War (2003-4); Rampage (2005-6, SFF 2006); Love City Jalalabad (SFF 2013); Snow Monkey (2016).White Lightfocuses on South Side Chicago, a suburb with worse gun violence statistics than any active war zone of the last two decades.
It All Started with A Stale Sandwich
Samantha Lang directs and writes intimate drama and documentary work that has screened at major festivals including Sundance, Toronto, Locarno, and Cannes (The Well, SFF 2017 competing for the Palme d'Or). A savvy celebration of the inspirational artworks created for Kaldor Public Art Projects over 50 years, with artists including Christo, Abramović, Jeff Koons, and Gilbert & George.
Lili
Peter Hegedus is a multi-award-winning documentarian. Films include: Inheritance: A Fisherman's Story (2003); My America (SFF 2011); Strudel Sisters (2016); Éva (2018).A young mother flees Hungary in the midst of a revolution. Decades later, she reveals to her daughter a history of abandonment that crosses continents and four generations.
Martha: A Picture Story
Selina Miles is known for her directorial work in the online space and the street art world. Her recent projects include Limitless (YouTube) and The Wanderers (ABC iView). Three decades after publishing her book, Subway Art, photographer Martha Cooper discovers she's become an unexpected icon of one of the biggest art movements in history.
She Who Must Be Loved
Erica Glynn has directed shorts, documentaries, and worked as an executive producer (Redfern Now, Gods of Wheat Street). Recent credits: Black Comedy, In My Own Words (SFF 2017).A celebration of the life and work of the trailblazing Alfreda Glynn: history-maker, mother, and a central figure in Indigenous filmmaking from the heart of the country.
"Documentary Australia Foundation is very proud to continue our support of the Sydney Film Festival for a sixth year. The documentaries nominated in the Australian competition are of such a high standard, with distinctive stories covering a fascinating range of issues and styles," said Documentary Australia Foundation CEO Dr Mitzi Goldman.
Previous winners of the Australian documentary prize at Sydney Film Festival are: Ghosthunter (2018); The Pink House (2017); In the Shadow of the Hill (2016); Only the Dead (2015); 35 Letters (2014);Buckskin (2013); Killing Anna (2012); Life in Movement (2011), and; The Snowman (2010). In 2009 the inaugural prize was shared between Contactand A Good Man (each film received a $10,000 cash prize).
"They are only a snapshot of the breadth of talent in the Australian documentary sector, but provide a window into the profound work and commitment our filmmakers have to their subjects. We have great respect for our documentary filmmakers, and it is an honour to celebrate their excellence in a small way with this award," she said.
Many more fantasic documentaries in the program includes The Final Quarter, Varda by Agnès, Anthropocene: The Human Epoch, and American Factory. Check out the full program here: https://www.sff.org.au/