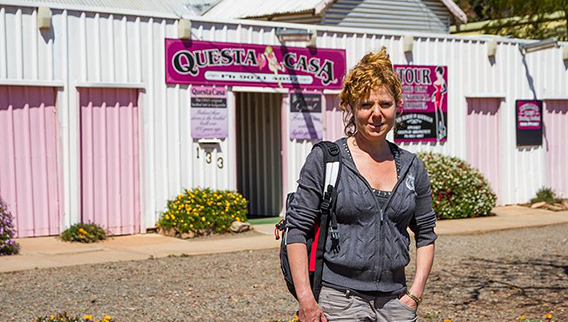 PUBLISHED08 Aug 2017
Behind the Scenes with The Pink House director Sascha Ettinger
We caught up with Sascha Ettinger, director of The Pink House and winner of the 2017 DAF Award for Australian Documentary at Sydney Film Festival.
What first drew you to documentary filmmaking?
I always wanted to be a writer. Since I found myself infinitely more fascinated by the weird and wonderful 'real world' than my own imagination, my compulsion was to write 'gonzo style' feature stories about strange characters and places I encountered. I would accompany these with crude photographs, and I realise in retrospect they were like mini-documentaries. Some of the features were published in upmarket arthouse magazines which was really encouraging. While hanging around in a skid row lane researching one of these stories I met an eccentric street photographer with an old 1936 antique Rolleicord camera, who had been living rough and photographing in the city's badlands amongst squatters, sex workers, addicts and street folk for over a decade. This man was so captivating I knew he couldn't just be transcribed onto a page or captured in a still image. After many months of intense friendship I convinced this brilliant artist – the late Peter Darren Moyle – we should collaborate on a documentary project. A close friend Justin Malinowski (who still does great photography) had just started a business making wedding videos and invested in a fancy Canon XL1 so we decided – with great glee and naivete – to make a guerilla doco! After 2.5 years of craziness, our film Painting with Light in a Dark World, was released to acclaim and I was en route to my prolonged love affair with making documentary films!
What is your all-time favourite documentary? What makes it a standout for you?
That is a totally unfair question! There are so many engrossing feature docs out there – and the list keeps growing. Since this is for DAF I will narrow the perameters to my all-time favourite Australian documentary which is Black Harvest by Bob Connolly. The characters are so rich and what appears a simple story is actually a profound commentary on colonisation, globalisation, capitalism, land rights, black/white relations, human rights. So much depth! The filmmaking is utterly brave too, and you even see an arrow fly by the camera when Bob and Robin were shooting in the middle of tribal warfare. 5 stars from me. I would love to travel to PNG one day.
Why The Pink House? What drew you to this story?
In 2010 I took a job out in Kalgoorlie, a remote goldmining town in WA, shooting a reality-style cop show. With a reputation built on gold girls and grog, Kal is certainly a place you'd expect to meet some classic wild west characters. The show had been sold to the network promising brawls, bikies and brothels, but when I lobbed in town not much crime was happening at all. So one evening I strolled down Hay Street with the intention of arranging to film a police 'walk through' of a brothel, so it would at least provide a bit of action. I had heard only vaguely of the strip's infamous past as the sex capital of the West. I had no idea brothels are technically illegal in Western Australia.
I rang on the doorbell of the old pink tin shed and a platinum-bobbed woman with a curiously posh accent opened the gate. Leading me down the creaky hallway Madam Carmel began to regale me with grandiose stories of The Pink House's history (c1904), and the weird and wonderful girls and clients, who had passed through it during her 25 year tenure as Madam. BJ, her sex worker, who stood dragging on a smoke at the door of the house, virtually lit up the room with her sensuality and charisma, and clearly had her own story to tell. I was hooked. I emerged several hours later on a high, wondering what strange world I had just stumbled upon.
Lonely and desperate for female company, I started to frequent the Pink House on my nights off, to be entertained by Carmel's conservative views on modern sex, and BJ's wicked humour. From the 1890s gold rush to the present day, I was titillated by stories of working girls from all around the world who had come to Kal to make their fortunes. I learned the controversial story of the unwritten 'Containment Policy' under which police turned a blind eye as long as brothels followed strict rules, which effectively enforced apartheid for sex workers. And I heard about the current political and legal stalemate driving the house into extinction while freelance prostitutes – supposedly trafficked Asian women – made a killing in the suburbs. Having worked and lived together for so long, Carmel and BJ radiated almost a mother/daughter dynamic. It was too juicy not to have a crack at!
Around 2012 I joined forces with Claire Haywood and we embarked on a film to celebrate these two women and this foremost icon of Australian Goldfields history. After 5 years of slog, The Pink House is where we ended up!
What does winning the 2017 DAF Award mean to you?
The DAF Award is a massive honour for both Claire and myself. I still have the scrappy piece of paper with the jury's statement stuck up on my wall. The money is obviously great but the acknowledgement and those words mean so much to me. This film was particularly difficult to make, and took a lot of years, so it is real vindication to have the film validated with the recognition.
What is the most important lesson you've learnt that has had a positive effect on your filmmaking?
I think distilling the essence of what is important to your story has been one of my most important lessons from this film. There were so many threads to follow in this story – the politics, the history etc – but the personal stories of Carmel and BJ and their relationship was always the most compelling. Likewise when BJ became involved in a murder it could have totally derailed the film, but in the end, instead of exploiting the drama of the murder in a tabloid way, we examined what effect it had on the relationship of the characters. And that kept the integrity of the film intact. Never lose sight of the beating heart of your story is the takeaway!
What's next? Do you have any more projects in the pipeline?
I am back working with Shark Island Productions on some kind of sequel to The Oasis, which was a documentary from 10 years ago tackling issues around youth homelessness. We are currently deep in research and it's really fascinating terrain. My family and friends keep reminding me that I decreed to pull away from the dark stuff and make my next film about still life flower arrangements but old habits die hard!!