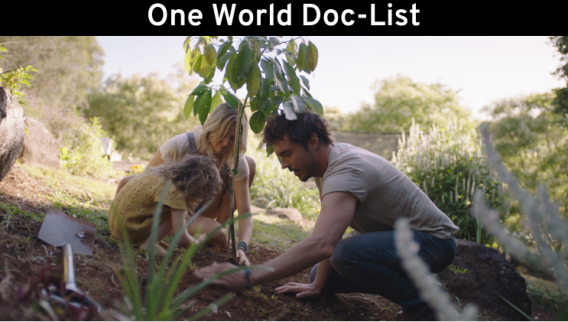 PUBLISHED04 May 2020
One World Doc-list
Five documentaries exploring the beauty of our worlds ecosystems, its animals and our effect on them.
These documentaries highlight the awe-inspiring diversity found in nature and whilst reflecting on the damage we are causing.
Humans are responsible for pushing the environment to its breaking point, but, we also hold the key to its preservation. In these strange times, we must fight to change our world for a more sustainable tomorrow.
Synopsis:
BLUE is the story our generation need to hear. The industrialisation that has occurred in the oceans over the last century, mirrors the events that triggered mass extinctions on land. Industrial scale fishing, habitat destruction, species loss and pollution have placed the ocean in peril.
The very nature of the sea is being irretrievably altered. BLUE is a provocative journey into the ocean realm, witnessing this critical moment in time when the marine world is on a precipice.
Where to watch – Apple TV

Synopsis
The 2040 journey began with award-winning director Damon Gameau (That Sugar Film). Motivated by concerns about the planet his 4-year-old daughter would inherit, Damon embarked on a global journey to meet innovators and change-makers in the areas of economics, technology, civil society, agriculture, education and sustainability.
Drawing on their expertise, he sought to identify the best solutions, available to us now, that would help improve the health of our planet and the societies that operate within it. From marine permaculture to decentralised renewable energy projects, he discovered that people all over the world are taking matters into their own hands.
Synopsis:
A powerful combination of investigative journalism and nature documentary, VIRUNGA is the incredible true story of a group of courageous people risking their lives to build a better future in a part of Africa the world's forgotten, and a gripping exposé of the realities of life in the Congo.
In the forested depths of eastern Congo lies Virunga National Park, one of the most bio-diverse places on Earth and home to the planet's last remaining mountain gorillas. In this wild, but enchanted environment, a small and embattled team of park rangers – including an ex-child soldier turned ranger, a caretaker of orphan gorillas and a dedicated conservationist – protect this UNESCO world heritage site from armed militia, poachers and the dark forces struggling to control Congo's rich natural resources.
Where to watch: Netflix
Synopsis:
This National Geographic documentary follows Leonardo DiCaprio on a journey as a United Nations Messenger of Peace, traveling to five continents and the Arctic to witness climate change firsthand.
He goes on expeditions with scientists uncovering the reality of climate change and meets with political leaders fighting against inaction. He also discovers a calculated disinformation campaign orchestrated by powerful special interests working to confuse the public about the urgency of the growing climate crisis. With unprecedented access to thought leaders around the world, DiCaprio searches for hope in a rising tide of catastrophic news.