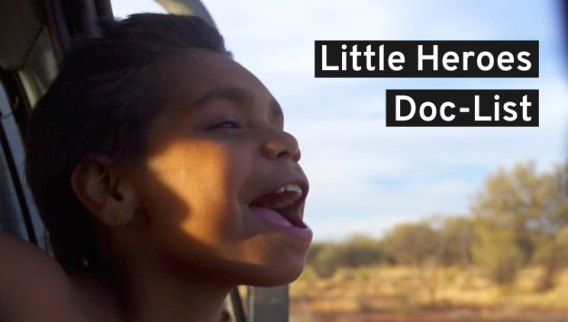 PUBLISHED03 Apr 2020
Little Heroes Doc-list
Five documentaries showcasing the resilience of young people in the face of adversity. 
This list of documentaries was chosen to highlighting that a child's innocence does not limit their capacity to ignite passion, drive political change or remain determined in-spite of overwhelming odds.
At times, it is the youth of our world must lead us, as their intension and hopes have not been affected by the realities our society has created. 

Synopsis:
Ten-year-old Dujuan is a child-healer, a good hunter and speaks three languages. As he shares his wisdom of history and the complex world around him we see his spark and intelligence. Yet Dujuan is 'failing' in school and facing increasing scrutiny from welfare and the police.
As he travels perilously close to incarceration, his family fight to give him a strong Arrernte education alongside his western education lest he becomes another statistic. We walk with him as he grapples with these pressures, shares his truths and somewhere in-between finds space to dream, imagine and hope for his future self.
Where to watch – Vimeo

Synopsis
A group of troubled boys are on a perilous course towards jail until they meet up with the free-wheeling jackaroo, Bernie Shakeshaft, and hit the road with his legendary dog jumping team.
This observational documentary, filmed over two years, follows boys in a youth program that Bernie runs from a shed on the outskirts of Armidale, a rural town in Australia. On the road, the boys find their voice, make great friendships and the dogs become national champions. But as the boy's sleep under the stars at night the trauma is never too far away. With their survival and futures at stake, they must constantly step up, push themselves, support each other and some days can be hard. This inspiring coming of age story reveals the challenges and triumphs these boys face as they try to find their place in the world, and the dogs that help tame their wild ways.
From the wild Kenyan savannah to the winding paths of the Moroccan Atlas mountains; from the suffocating heat of the Indian Ocean coast to the the vastness of Patagonia's high plateau, these children are driven by the same quest, the same dream.
Jackson, Zahira, Samuel and Carlito are the heroes of On the way to school, a feature-length adventure documentary about four young schoolchildren forced to surmount a multitude of obstacles in order to get to school.  On taking their amazing paths that lead to learning, they will leave childhood behind and begin a journey fraught with pitfalls and surprises. This film is the story of a voyage of initiation that will change their lives.
Synopsis:
This inspiring documentary about courage, survival, and triumph over adversity tells the remarkable story of teenager Malala Yousafzai, who was attacked by Taliban gunmen in Pakistan for advocating girls' education. Rather than be silenced, Malala emerged as a global voice for the education rights of children, and in December 2014, became the youngest-ever recipient of the Nobel Peace Prize.
Synopsis:
Bess Kargman's award-winning documentary, First Position, follows six young dancers as they prepare for a chance to enter the world of professional ballet, struggling through bloodied feet, near exhaustion and debilitating injuries, all while navigating the drama of adolescence. A showcase of awe-inspiring talent, tenacity and passion, First Position paints a thrilling and moving portrait of the most gifted young ballet stars of tomorrow.