PUBLISHED16 Jul 2020
Ka-Ching! Pokie Nation Case Study
The pokies. They're rigged, they're addictive and they're everywhere. They've got almost half a million Australians hooked- and that's just what they're designed to do.
Synopsis
In this ground-breaking expose, industry insiders go on the record to explain how carefully Pokies are programmed for addiction. They're joined by world-leading neuroscientists, taking you into the lab to reveal how these machines work on the deepest levels of our brains, leading some researchers to call them "electronic morphine". And, the film reveals how successive Australian governments have become the biggest addicts of all. This documentary puts the pokie machine on trial. 
Film Team
| | | | | |
| --- | --- | --- | --- | --- |
| Director  | Producer | Executive Producer | Associate Producer | Line Producer |
| | | | | |
| Jane Manning | Mitzi Goldman | Neil Lawrence | Caroline Pegram | Merran Lang |
| Editor | | | | |
| | | | | |
| Andrea Lang | | | | |
Context
In the time it was released, pokies reform was a very niche issue, perceived as being a harmless pastime that only the weak became addicted to. In Australia, pokies have gone from being illegal to being everywhere. Australia became the pokies capital of the world, with five times more machines per capita than the USA and more machines per capita than any other country in the world, excluding "gambling destinations" such as Monaco.
The financial losses to gambling are immense. Not only was Australia's gambling problem taking a severe financial toll, but also a personal one, with three out of four people experiencing addiction reporting depression and a link between addiction and relationship problems. Meanwhile, Coles, Woolworths, sports clubs, and outlets of the R.S.L. were benefiting from the problem.
Key messages
The film proves that pokies are rigged and designed to be addictive, and that the government is benefitting from it.
Target audiences
Individuals who have experienced pokies addiction

Policymakers and key decision-makers

Young people

The general public.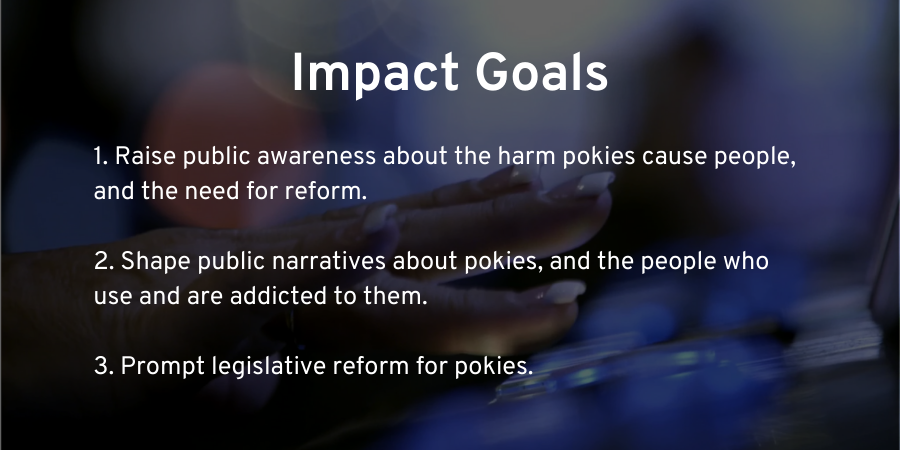 Partners and Allies
Get Up!, the Alliance for Gambling Reform, and various expert consultants including Sarah Jackson and Steve Levakis (both of whom facilitated the outreach for schools).
Campaign Roll-out
Pre-broadcast: organisations and individuals of influence held screenings and promoted the film throughout its development.
October 2015: Ka-Ching! premiered on ABC, and later featured on Network 10 Gogglebox. In the lead up to the Broadcast, a campaign was implemented involving a "watching pledge" to watch the broadcast and share the pledge with 7 other people, and a "viewing party pledge" to gather five people together to watch the film
Launch of social media channels and activation of partners and allies, including the Alliance for Gambling Reform, GetUp!, media personalities and influencers
30+ public figures, with over 1 million social media followers, promoted the film
2016: A NSW-based partner campaign was established called "Proudly Pokies Free" which celebrated pubs without pokies.
The impact campaign involved holding screenings with organisations and influencers, including panels and Q&As, helping raise awareness of the film, pokies and gambling harm
During the screening phase, local councils were contacted, involving them in distributing the film.
After the film premiered, two education packs were developed, and educational institutions were encouraged to purchase and use the packs.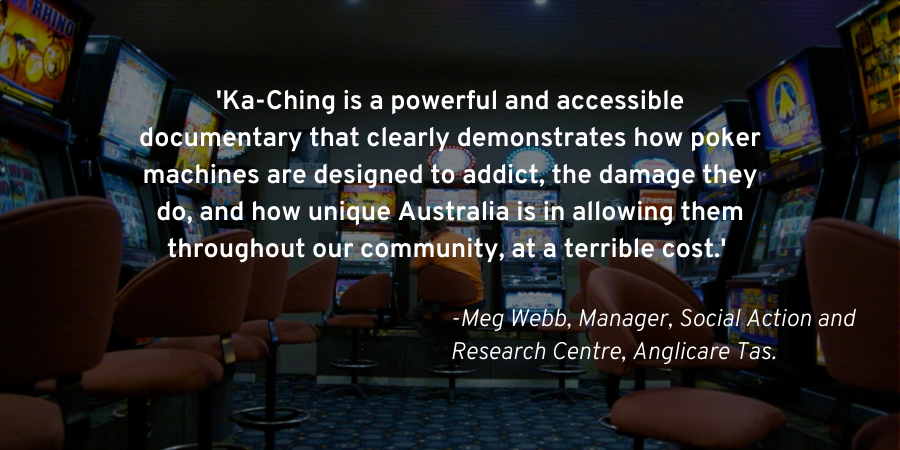 Reach and response 
About 1,500,000 people have seen the film. 
It has been purchased for TV distribution in China, Spain and the US and elsewhere, and has been toured around New Zealand as part of Best Care Whakapai Hauora's "Gamble Free Week" campaign.
120 screening licenses were purchased by 2018, and there are still 2-3 enquiries or orders a week.
42 school toolkits and 64 professional education packs have been sold.
'Neil Lawrence's "Ka-Ching!" is proof that no matter how many times you play the pokies, the pokies will always play you.'
-Andrew Denton, 17 October 2015
Impact
The film contributed to increased media coverage on gambling and gambling harm, with was mentions in at least 70 pieces of media. It contributed to changed narratives that took the blame away from individuals and put accountability onto the venues and reinforcing systems.
The film increased awareness, empathy and motivation to take action on the issue of gambling and gambling harm amongst audiences, with the majority agreeing they had changed their attitudes about pokies (62%), they had increased sympathy for those struggling with a gambling addiction (64%) and they would support measures for increased gambling reform (92%).
The film has been used powerfully as a means of education by the Alliance for Gambling Reform and many other partners, playing an important role in helping individuals better understand pokies and overcome gambling addictions.
The film increased visibility for the Alliance for Gambling Reform and other organisations, with 51% of audiences who watched the film stating they would join a campaign for gambling reform.
Politically, it increased public pressure for change: Victoria capped pokies machines at their current number and, in 2018, the Tasmanian Labor Party ran on an anti-pokies campaign. While they were unsuccessful, it represents a cultural shift that Geoff Lane of the Alliance for Gambling Reform attributes to Ka-Ching! and the Alliance.
Over time significant continue as a part of ongoing cultural shifts, with an increasing number of establishments and companies electing to remove their lucrative pokies including The Beach Hotel in Byron Bay, selected AFL clubs and more recently Woolworths eventually removing their pokies machines in 2017 and 2018 as a result of this film's cultural impact.
Major Funders
The Reichstein Foundation
The Lord Mayor's Charitable Foundation
Beecher Family Foundation
City of Geelong Greater Council