PUBLISHED15 Jun 2022
Ithaka Post-Screening Conversation
A father. A family. A fight for justice What are the global implications of Julian Assange's case?
The world's most famous political prisoner – Julian Assange, has become an emblem of an international arm wrestle over freedom of journalism, government corruption and unpunished war crimes. But – how does Julian Assange's fight for freedom impact us all?
Documentary Australia, the Australian Human Rights Institute and the Human Rights Law Centre are proud to present a special panel conversation about ITHAKA and the implications of Julian Assange's ongoing case.
Hear from Ithaka film director Ben Lawrence, author of Facts and Other Lies: Welcome to the Disinformation Age Ed Coper and Kieran Pender from the Human Rights Law Centre as they discuss the global issues at stake in this case. This special conversation was moderated by journalist Amy Fallon.
---
The Conversation
---
Ithika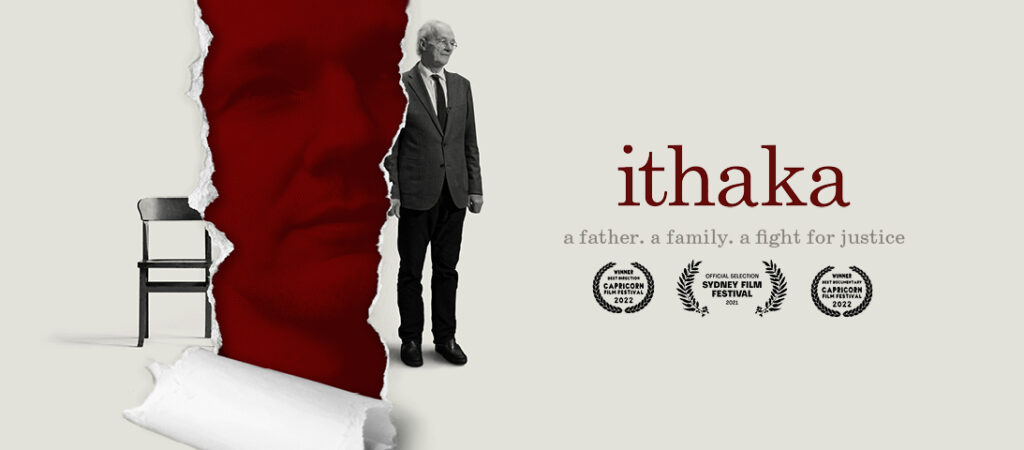 ITHIKA shines a light into the darkest corners of society, highlighting what the most powerful nations will do in order to hide their crimes.
It is a moving and intimate portrayal of one father's fight to save his son, exposing the brutal realities of the campaign to free Julian Assange.
---
The Panel
Ben Lawrence – Ithaka Film Director
Award winning director Ben Lawrence's work includes  Ghosthunter which won best documentary at the 2018 Sydney Film Festival and was nominated for 4 AACTA's, including best documentary and went on to screen in competition at numerous international film festivals. His feature film, Hearts and Bones starring Hugo Weaving premiered at the Toronto International Film Festival in 2019 and won the Australian Directors Guild, Best Director award in 2020.
Ed Coper – Author of Facts and Other Lies: Welcome to the Disinformation Age
Ed Coper is a leading communications expert and was on the front lines when the internet collided with democracy, growing Australia's first online political movement GetUp to quickly amass more members than every political party combined. He powered Change.org's global expansion into over eighteen countries and pioneered techniques to bring politics into the digital age, and has been behind the scenes of many of the last decade's most prominent social movements.
Kieran Pender – Senior lawyer at the Human Rights Law Centre
Kieran leads in the Centre's work on whistleblowing and whistleblower protections. He is also an honorary lecturer at The Australian National University and an award-winning journalist. Previously, Kieran was a senior legal advisor at the International Bar Association in London, where he coordinated Whistleblower Protections: A Guide (2018) and co-authored Are Whistleblowing Laws Working? A Global Study of Whistleblower Protection Litigation (2021).
Amy Fallon – Moderator
Amy Fallon is a widely-published and experienced Australian-Canadian journalist, communications and media specialist who has worked around the world for global media outlets and organisations. Amy has worked as a staff reporter in Australia, from the newsrooms of most of the UK nationals, been a foreign correspondent in Africa and Asia, reported for newswires and magazines and consulted for NGOs.