PUBLISHED14 Jul 2020
The Final Quarter Case Study
This is what was seen. This is what was heard.
Synopsis
Adam Goodes was a champion AFL footballer and Indigenous leader. In the final three years of his playing career he became a lightning rod for a heated public debate and widespread media commentary that divided the nation. He publicly called out racism, was named Australian of the Year, was accused of staging for free kicks, and performed an on-field war dance celebration. The cheers became boos as the crowds turned on him. Using only archival footage aired at the time, The Final Quarter holds a mirror to Australia and is an opportunity to reconsider what happened on and off the football field.
Film Team
| | | | | |
| --- | --- | --- | --- | --- |
| Director & Producer | Producer | Editor | Executive Producer | Media Director |
| | | | | |
| Ian Darling | Mary McCrae | Sally Fryer | Melinda Wink | Jen McAsey |
| Educational Director | Composer | Graphics | | |
| | | | | |
| Alex Shain | Paul Charlier | Paul Ducco | | |
Context
From 2013, Sydney Swans footballer Adam Goodes went from being a champion footballer, an outstanding Indigenous leader and the 2014 Australian of the Year, to being booed and taunted by fans at stadiums across the nation. The racially motivated vilification and unsympathetic voices from audience members and commentators increased to the point where he left the game on which he had built his career. He did not participate in a final parade for retiring players as he feared that he would be booed again. Director Ian Darling wanted to explore what happened and why, and start the conversation about racism in Australia that Adam Goodes asked us to have.
Key messages
Casual racism exists in Australia, and it is harmful

It is time for Australia to reflect on and take action against racism.
Target audiences
AFL, including the Indigenous Players group and AFL clubs

Peak Indigenous bodies and the Australian Human Rights Commission   

Media

General Public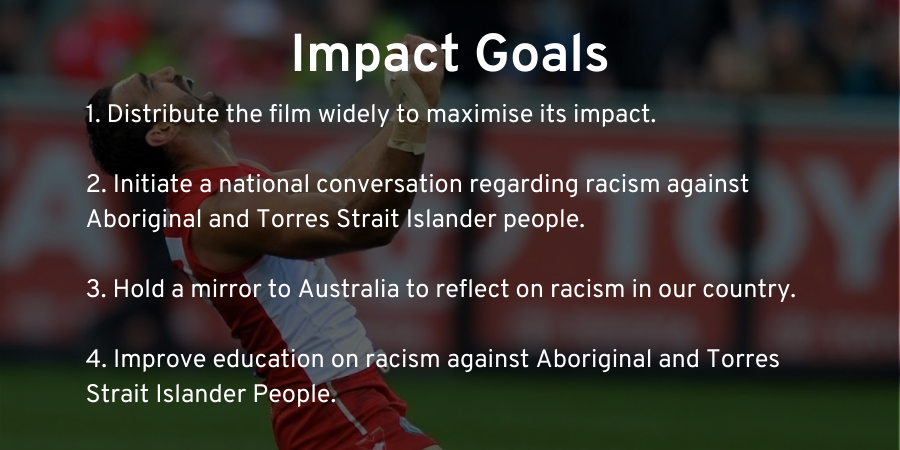 Partners and Allies
Australian Teachers of Media, Cool Australia, and Reconciliation Australia, as well as the Australian Human Rights Commission, and many media organisations and influencers mobilised to support the film. 33 Creative and the GO Foundation were invaluable in publicising the film and carrying out its impact campaign over social media.
Campaign Roll-out
Early-Mid 2019: Screenings with dozens of influential organisations and individuals including peak Indigenous bodies, the Australian Human Rights Commission, the AFL including the Indigenous Players Group and all 18 AFL Clubs
May 2019: Media screenings for more than 100 journalists as a part of a proactive media strategy to reach a mass audience
7 June 2019: Premiere screenings at the Sydney Film Festival to sold out audiences, receiving unprecedented demand and extensive media coverage, followed by a number of other film festivals
19 July 2019: Broadcast nationally on Channel 10 (July 18) and WIN- accompanied by a special on The Project.
20 September 2019: the film became freely available to schools, sporting clubs and community organisations and anyone could access the resources, stream the film, or request a copy of the DVD
Community, corporate, school and sporting club screenings were facilitated, with Shark Island staff attending over 95% of the screenings to participate in panels and Q&As
27 September 2019: the Home Entertainment (digital) release began
Throughout 2019: worked through social media company 33 Creative to engage with an online audience, maximise positive engagement and manage racist or bullying interaction.
Late 2019: Launched the educational strategy in partnership with the Australian Human Rights Commission, Reconciliation Australia and Cool Australia, including 46 lessons for years 5-12 on dignity, cultural pride, racism, truth-telling, respect, resilience, and mental health.
Next steps in 2020: Distribute a DVD and educational resources to every principal of every high school in Australia, as well as every junior and senior sporting club with access to the film, and continue community outreach.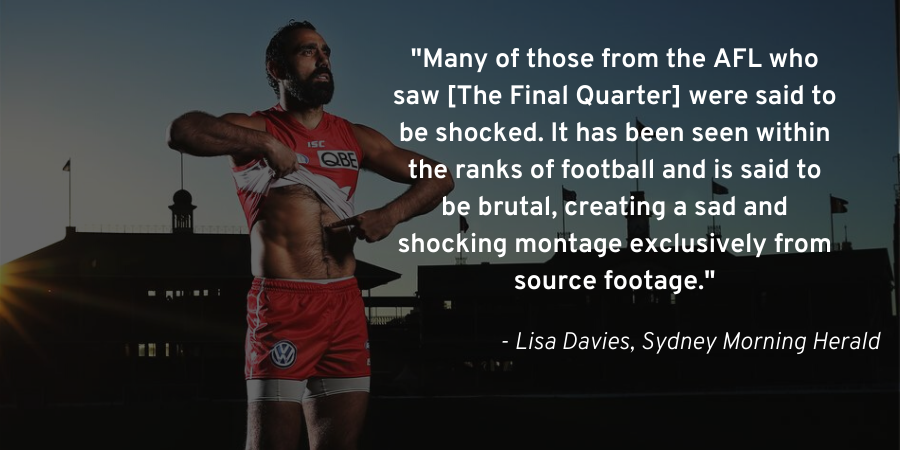 Reach and response 
Seen by over a million people, and counting
Won numerous awards, including the Film Critics Circle of Australia Best Feature Documentary 2019 Winner, AACTA Award for Best Editing in a Documentary 2019 Winner, Asian Academy Creative Awards Best Documentary 2019 Winner
Had a total of four screenings on Network Ten and WIN to over one million audiences across the broadcast and 10Play Catch Up
Extraordinary media coverage and audience response across newspapers, radio and TV, largely praising the way the film objectively revealed the truth about the last three years of Adam Goodes' career. See a snapshot of media articles here: https://thefinalquarterfilm.com.au/media-articles/

Additional assets have had high engagement including 944 Screening Guide downloads.
Impact
Extremely effective in initiating a national conversation regarding racism in Australia. It received extensive media coverage, with over 200 articles and 330 pages of media appearing in all media outlets including The Age, SMH, Herald Sun, The Australian, The Guardian, The Daily Telegraph, ABC Insiders, etc.
In addition, there was an incredible response and conversation that occurred on social media, with the film trending in the top-ten mentions in Australia for days.
The AFL issued an unprecedented and extraordinary response on the night of the film's premiere, apologising for the treatment that Adam Goodes had experienced and for not doing enough. The AFL Players Association's Indigenous Advisory Committee also issued a statement, and there was an outpouring of emotion from the Indigenous players who called for all to fight against racism.
Further, the film has already achieved positive educational outcomes. Within the first three months of the educational release, the film: had been seen within ~25% of secondary schools in Australia and became the third-most watched content on ClickView in 2019, including 1,073 institutions streaming the film and a total 22,294 views. In addition, 13,000 users accessed the educational resources on Cool Australia and 2,500 watched the film, and the AToM study guide was downloaded 3,507 times.
Feedback to date also confirms the transformative nature of the film for students, as well as the powerful capability of the film as a tool for teachers to help their students understand racism and discrimination. Many Year 10-11 students openly admitted that it had changed their attitudes, and students have said the film empowered them to stand up to racism and helped them acknowledge it was damaging.
"It evoked so much discussion, passion and anger. One of the best documentaries I have ever used as it is so powerful"
– HSIE Teacher.
Wrap up & what's next
The impact and outreach campaign is expected to significantly expand in 2020, with a DVD to be given to the principal of every high-school in Australia. In addition, new educational resources will be released.
Provide every junior and senior sporting club with access to the film and screening guides and supporting materials via the AFL and Australian sporting clubs
Work with sporting bodies to encourage clubs to screen the film as an ongoing part of Indigenous Round activities
Use the film to educate young people about racial vilification at a grassroots level and continue outreach to ensure The Final Quarter continues to have a long-term and lasting legacy.