PUBLISHED05 Aug 2020
Environmental Documentary Incubator Program 2020
Since launching the Environmental Documentary Incubator program earlier in 2020, we have been working closely with filmmakers to develop impact strategies to use their films to drive action on climate change.
Since launching the Environmental Documentary Incubator program earlier this year, Documentary Australia Foundation has been working closely with filmmakers to develop impact strategies to use their films to drive action on climate change. 
Our goal at DAF is to create collective impact by supporting a suite of environmental films over the next two years – leveraging the power of storytelling to increase public understanding on the climate emergency and inspire new audiences to take action.  
Each of these films tell a powerful story and has the ability to make significant impact individually – but it is through their collective impact that we can keep the environment on the agenda for years to come.   
The films that have been invited to join the Environmental Incubator tell a wide range of powerful stories which touch on the challenges faced by our planet – and the inspiring action people are taking to protect our climate and biodiversity.  
Join us at New Stories for Climate Action – a live pitching event to discover the new environmental documentaries that are about to hit our screens and create impact! Register here.
 Youth on Strike! explores the 2019 climate action strikes through the eyes of its organisers – 12 Australian high-school students. The web-series was recently livestreamed to 15,000 participants during the Online Climate Strike held by the School Strike 4 Climate movement – showcasing the resilience of young Australians challenging our political status quo and their desire for change. Youth on Strike is competing at Berlin and Melbourne WebFest and is available to stream online now. They are fundraising for impact to bring their educational materials to schools.  
Wild Things reflects on Australia's environmental frontlines today, and the myriad of different people and campaigns that are fighting for our planet's future. Premiering at Cinefest Oz , this documentary captures the non-violent multi-generational environmental movement in Australia – and hopes to support these campaigns. 
From the future of activism to lessons from the past, Dark Water: Battle on the Franklin takes us back to one of the most successful environmental campaigns in Australia's history.  Part historical document and part modern adventure, this film is a celebration of everyday heroes who stood for change and an inspiring portrait of a movement – which hopes to inspire action by showcasing these lessons of community activism. They are currently in production and fundraising for outreach and impact.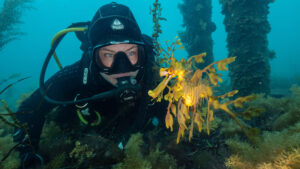 Other films in the incubator are a deep dive into the beauty of our natural world. Great Southern Reef showcases the little known marine ecosystems off the southern coast of Australia and how it connects communities. Over the past two years, the film team has been carrying out filming of over 80 inhabitants whose life depends on these reefs. The films will showcase indigenous culture and stewardship, sustainability, climate change, conservation, innovation, and community action. With education modules already produced, this scientific deep dive into our oceans' aims to put Australia's Great Southern Reef on the map for protection and tourism.  
Similarly, A Tree is for Life, explores the unique role trees play in our lives. Spanning six continents, this project invites audiences to reflect on our unique symbiotic relationship we have with trees. This multi-disciplinary project includes a feature film and VR immersive experience – bringing audiences intimately back to nature and giving them tools to protect and grow our forests for the future. Currently in development, they are looking for funding and impact partner to bring their vision to life.  
Finally, The Seeds of Vandana Shiva highlights the inextricable relationship between us and the natural world – and how industrial agriculture is polluting and degrading our planet. Following the unique story of Vandana Shiva, this film proves that one person's actions do matter – and have the potential to drive national and global action. Vandana's fight against corporate greed and campaigns for regenerative farming and food security will inspire communities to start their own seed banks and support local, organic growers. 
Climate change is a complex and overwhelming issue – we know there is no silver bullet. It must be tackled passionately and collectively, through many different avenues of change. By supporting this suite of environmental stories, we hope to create ripples of change throughout society – bringing diverse audiences to these films and inspiring action. 

Over the next six months, we will be working with filmmakers to build their capacity in fundraising, evaluation, partnerships and pitching. To support these films, please click through to their pages and donate or get in touch.  
Register for our live Environmental Pitch on November 19th here.