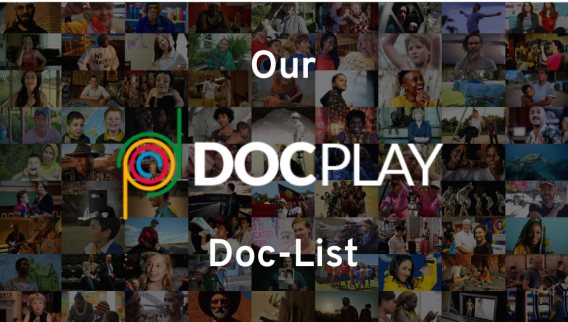 PUBLISHED15 Jul 2020
Our DocPlay Doc-List
A shoutout playlist to DocPlay - Australia's dedicated home for streaming real stories!
A special selection from DocPlay's catalogue showcasing Documentary Australia Foundation's seven impact areas.
These documentary films highlight the rich diversity of voices we are proud to support – spreading their messages far and wide to affect social change.
If you are a long-term supporter of ours – you might even see a project you've supported here!
Synopsis
Frackman tells the story of accidental activist Dayne Pratzky and his struggle against international gas companies. Australia will soon become the world's biggest gas exporter as more than 30,000 'fracked' wells are sunk in the state of Queensland where Dayne lives. He and his neighbours have unwittingly become the centre of a massive industrial landscape and they have no legal right to stop mining on their land.
Dayne embarks on a journey that transforms him from conservative pig-shooter to sophisticated global activist as the Frackman. He meets the people drawn into a battle that is crossing the ideological divide, bringing together a peculiar alliance of farmers, activists and political conservatives. Along the way Dayne encounters love, tragedy and triumph.
Synopsis:
Anne Hamilton-Byrne was beautiful, charismatic and delusional. She was also incredibly dangerous. Convinced she was a living god, Hamilton-Byrne headed an apocalyptic sect called The Family, which was prominent in Melbourne from the 1960s to the 1990s. With her husband Bill, she acquired numerous children – some through adoption scams, some born to cult members – and raised them as her own.
Isolated from the outside world, the children were dressed in matching outfits, had identically dyed blonde hair, and were allegedly beaten, starved and injected with LSD. Taught that Hamilton-Byrne was both their mother and the messiah, the children were eventually rescued during a police raid in 1987, but their trauma had only just begun.
Synopsis:
The Pokies. They're rigged, they're addictive, and they're everywhere.
Worst of all, they target the poorest Australians. For the first time, the masterminds behind the machines reveal how they're programmed for addiction. And we show how our governments became the biggest addicts of all.
Putuparri and the Rainmakers
Synopsis:
Putuparri and the Rainmakers is a universal story about the sacred relationship between people and place. It takes audiences on a rare and emotional journey to meet the traditional rainmakers of Australia's Great Sandy Desert who have fought a twenty-year battle to win back their traditional homeland.
The film spans ten transformative years in the life of Tom 'Putuparri' Lawford as he navigates the deep chasm between his Western upbringing and his growing determination to fight for his family's homeland. A trip back to his grandparent's 'country' in the desert begins the process of cultural awakening.
Synopsis:
 Deep beneath the complex world of organ and tissue transplantation are the heart-wrenching stories of real people awaiting life-saving organs in Australia. Why must they wait so long? Are changes in policy required – or shifts in perception? What does it take to support a family member running out of time as they await the generosity of strangers? How difficult is it to offer the death of a family member as a chance at life for others? And how much love and understanding does it take to make the compassionate decision to become a physical philanthropist?
Paul Kelly: Stories of Me
Synopsis:
This film charts the remarkable life of one of Australia's most gifted and beloved singer-songwriters. For almost 40 years, in over 350 songs, Paul Kelly has been mapping out the Australian landscape and its people.
For the first time in a feature length film, the man behind the music is revealed, as Kelly speaks candidly about the people who have helped shape his life and music. Featuring rare archival footage, never-before-seen live performances, interviews with Kelly's family members, former and current band members, music contemporaries and many more.
Synopsis:
The Moras are well known in Melbourne for their work in contemporary art and bohemian eateries. Less known however, is their story before moving to Australia in 1951…
As artist and filmmaker, Philippe Mora, works to produce a graphic novel about his late father, Georges Mora, an intriguing story unfolds. Georges was not in fact French, but rather had escaped to France in 1933 and worked with the French Resistance to save thousands of Jewish lives. Their secret ingredient? A simple trick using mayonnaise and baguettes.
The film provides a lively, tasty and colourful look into a dramatic tale of survival during the Holocaust. With interviews, art and clips from some of Philippe's previous works, the film moves at a lively and involving pace.