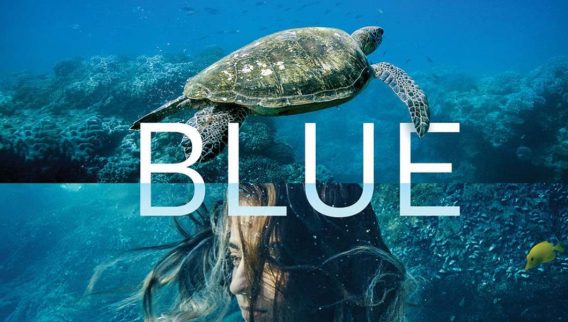 PUBLISHED28 Oct 2020
Blue Case Study
This provocative journey into the ocean realm highlights a critical moment in time when the marine world is on a precipice.
Synopsis
Over the last three decades, coral cover on the Great Barrier Reef has halved. More than a third of fish stocks in our waters are now over-exploited or have status "unknown". And this year alone, 50 million plastic bags will enter the litter stream from Australia, making our country the second largest waste producer, per capita.
Featuring passionate advocates for ocean preservation, Blue is a provocative mix of scientific essay, investigative journalism and arresting imagery. Tackling themes of habitat destruction, species loss and pollution, Blue takes us into the ocean realm where we witness ocean change first hand. And as we learn of the ecological crimes occurring worldwide, we also uncover the shocking truths happening on our own Australian shorelines.
Blue comes at a time when we are making critical decisions, which will decide the legacy we leave for generations to come. Australia has the opportunity to be seen as a marine conservation leader. We have the greatest tropical reefs and potentially the biggest network of marine sanctuaries on the Planet. 90% of the creatures here occur nowhere else in the world. But can we step up to the plate and save our oceans?
Film Team
| | | | |
| --- | --- | --- | --- |
| Director & Producer | Director & Impact Producer | Director of Photography | Underwater Camera |
| | | | |
|  Karina Holden | Sarah Beard | Jody Muston | Jon Shaw |
Context
Industrialisation, as with the land, has placed the ocean in peril, with industrialised fishing, habitat loss, species loss and pollution threatening to irrevocably alter the nature of our oceans. 
Since 1980, half of all marine life has been lost, with plastic infiltrating waterways, oceans, and marine creatures themselves, killing hundreds of thousands of creatures every year. 
While the threat seems insurmountable, it is vital that we take action. Blue aims to provoke this, at this critical juncture in the marine world's history.
Key messages
Problems with industrialisation are widespread, and are causing great harm to the ocean and the species within it.

We need a better grasp of how to live on our finite planet, but also an understanding of how the future is something we can all affect.

There is no time more urgent than the present to protect the natural systems that sustain us.

We all need to be engaged in the issues now and not leave this for our kids to fix. We need to make smarter choices and reduce our impact.
Target audiences
General Public.

Community and political leaders.

Environmental experts and enthusiasts.
Partners and Allies
UN Special Envoy to the Ocean, Peter Thomson, has been advocating for the film. Partners are Australian Geographic, Citizens of the Great Barrier Reef, Clean Up, Keep Top End Coasts Healthy, the Sustainable Oceans Alliance, Australian Marine Conservation Society (AMCS), Blue Marine Foundation, Great Barrier Reef Legacy, Cool Australia, Great Australian Bight Alliance, Surfrider Foundation Australia, Save Our Marine Life, One Less Straw, Plastic Free July, the Stop Adani campaign, United Nations Association of Australia, World Animal Protection, Clean Seas, and the Taronga Conservation Society Australia, Tangaroa Blue, Sea Shepherd Conservation Society, Morris Group, The Pew Charitable Trusts, The Caledonia Foundation, Take 3 For The Sea, and Semester at Sea. Additionally, pre-release screenings were held by the following: Climate Council, 1 Million Women, Intrepid Foundation, Caledonia Foundation, AMCS, Surfrider, Sea Shepherd, and Take 3 For The Sea.
Campaign Roll-out
July 2017: Partnered with the Australian Marine Conservation Society to support their Federal Marine Parks campaign across Australia, as well as Global Citizento support the Global Citizen Blue actions campaign.


August 2017:

Blue

was screened in the New South Wales State Parliament.
July-September 2017: Pre-theatrical release screenings with various partner organisations.
October 2017: Theatrical release in Australia
February 2018: The Australian National Museum hosted screenings, including their Turning the Tide event, to confront the issues facing our oceans. 
March/May 2018: screening in Parliament House for parliamentarians.
June 2018: Partner Screening in San Francisco, partnered with WildAid, Bay Aquarium, and International Oceans Festival. 
December 2018: Inspired by the screening in Parliament House, Tony Burke M.P. hosted a

Blue

event at the annual Labor conference in Adelaide, partnering with AMCS and Save Our Marine Life.
June 2018-throughout 2019: The film was screened by various partner organisations, and at events such as World Climate Week and Our Oceans Conference and used by environmental advocates, youth leaders, NGOs, and political leaders.

2019: Partnered with Shoalhaven Council and Take 3 for a collaborative community event, held by Surf Life Saving Clubs, in a community-led initiative.
May 2019: Local Government/ Sydney councils hosted screenings in partnership with Not-For-Profit Change Creators, including a panel around plastic pollution and individuals making a change in communities. 
April 2019: As part of the Bondi Ocean Lovers' Festival,

Blue

co-hosted a screening with Save Our Marine Life, the AMCS, and Pew Charitable Trust, designed to be timed with the Parliamentary Election of 2019. 

2019: Labor Candidate for Warringah, Dean Harris, hosts a screening of the film.

June 2019: Screened in Monaco, co-hosted by the Prince Albert II foundation, attended by Prince Albert II. It is also screened by the UN Association in Australia.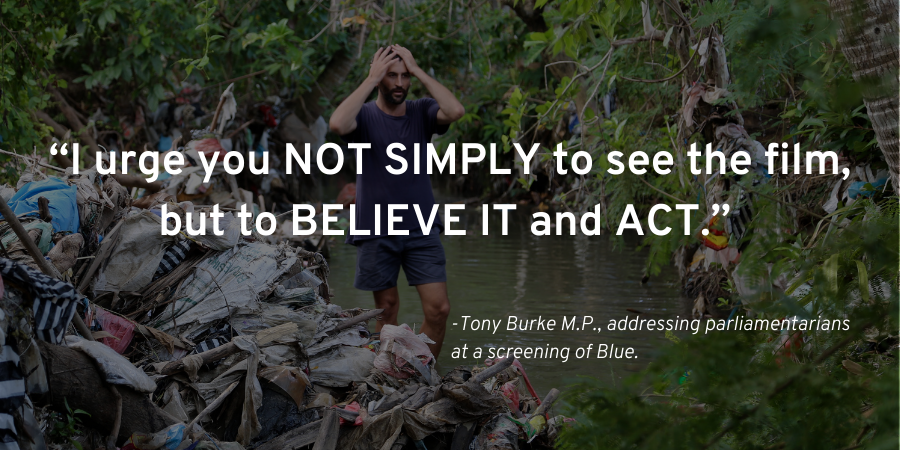 Reach and response 
In total, it is estimated that

3M people have seen the film

around the world.
Sold for broadcast on TV in France, Norway, Czech Republic, Japan, Korea, Canada, Latin America, Turkey, Poland, Easter- Former Yugoslavia territory, UK.
Over 200 community screenings and 80 cinema on-demand screenings.
Received extraordinary media coverage and sparked public conversation (https://bluethefilm.org/news-and-press)
Engaged thousands with over 900,000 unique website views, 37,000 Facebook followers and 15,600 Instagram followers. The hashtag "oceanguardian" has over 13,000 posts attached to it.
Shown to 300 primary-age students at the University of Ontario in Canada
Film responses suggest the audiences shocked by the damage being done to our oceans, and energised by the practical solutions proposed to make change.
"BLUE is a cinematic song for our oceans; beautiful, intimate and grand. Fearlessly truth-telling, yet passionately hopeful. See this film and you will want to rise up with the waves."
– David Ritter, CEO Greenpeace Australia
Impact
The film has been globally praised for advancing marine conservation objectives.

Its successes include improving marine conservation's public literacy, encouraging conversation and action amongst government organisations through ocean protection campaigns and activities, and inspiring awareness as well as individual change.
After seeing the film, 6,500 people signed up to become an Ocean Guardian
The film was awarded Banksia Foundation's Sustainability Award for Media, recognising the Blue Impact Campaigns contribution to the United Nations SDGs.
The film effectively increased marine knowledge and awareness, with:

91% of audiences agreeing they learnt something new about the oceans.

85% agreeing they have a better framework for understanding the issues facing the oceans

90-95% of audiences reporting they were prepared to carry out 15 potential actions, outlined here: https://bluethefilm.org/take-action 
It also improved educational outcomes, particularly for high school students. B

LUE's education materials were Cool Australia's highest performing curriculum package ever.
Lesson plans for the film were downloaded over 47,700 times, and reached more than 437,000 students in Australia, Slovakia, Sweden, Estonia and the Czech Republic. Survey results indicate that: 

90% of students increased their knowledge of ocean awareness and conservation. 

80% of students changed their attitudes towards ocean-harming behaviour, such as littering.

70% were prepared to act and change their behaviour.
Finally, the film contributed to building public pressure and political awareness about marine park protections. A parliamentary screening in 2018 was attended by over 100 parliamentarians including 80 MPs and Senators. It played a critical role as Environmental Minister Josh Frydenberg was deliberating about the zoning of marine parks.
Following this, Tony Burke M.P. also hosted screenings of the film to continue to raise awareness and advocate for marine protections and action.
The film was also used by numerous NGOs and advocacy groups to inspire action and exert political pressure including the Stop Adani campaign.