PUBLISHED15 Oct 2020
Baulkham Hills African Ladies Troupe Case Study
Find your voice, find yourself.
Synopsis
The Baulkham Hills African Ladies Troupe is a celebration of the remarkable resilience and spirit of four African women from Eritrea, Kenya, Guinea and Sierra Leone. Aminata, Rosemary, Yordy and Yarrie all fled violence and sexual abuse in their homelands, eventually finding a safe haven in Australia. For years they each held their pain within, until they decided to join a theatre group and speak out.
The film follows the story of these four charismatic and inspirational African women, now living in Australia, who, with the help of acclaimed theatre director Ros Horin, turned their harrowing stories of survival into a joyous theatre of humanity that has filled sold-out theatres from across their new country to the other side of the world.
Filmed over three years, this new documentary charts the personal journeys of Aminata, Rosemary, Yordy and Yarrie, from their first theatre group meeting through trauma, healing and public triumph, as the Baulkham Hills African Ladies Troupe travels from Western Sydney to the city, to the international stage.
Heartrending, heartfelt and ultimately uplifting, the film offers a message of hope and support to women and children who have suffered around the world, whether in the context of war, or in a domestic situation.
Film Team
| | | | | |
| --- | --- | --- | --- | --- |
| Director  | Editor | Director of Photography | Script Consultant |  Executive Producer |
| | | | | |
| Ros Horin | Andrew Arestides | Justine Kerrigan | Katherine Thomson | Tristram Miall |
Context
The film was made at a time when 16% of Australia's women have experienced physical violence from a partner by the age of 15, one woman is killed per week by a current or former partner, and 90% of female refugees, in the process of becoming a refugee, have experienced sexual violence at some stage.
It is a plea of hope for victims who need to know that they can find themselves again, despite the global culture of shame and silence around sexual assault.
It examines the effects of trauma, and what it means to be a survivor of sexual assault in both a domestic and a war context, as these four women attempt healing and creating new lives for themselves.
Key messages
There is power when women come together and support each other- you are able to make a difference and create positive change in the world.
There is hope and support for those who have suffered around the world- you are not alone and every journey of healing is different and important.
 Arts can be a transformative and powerful tool for healing through story-telling.
Target audiences
Migrant and refugee women
Civil society and human rights groups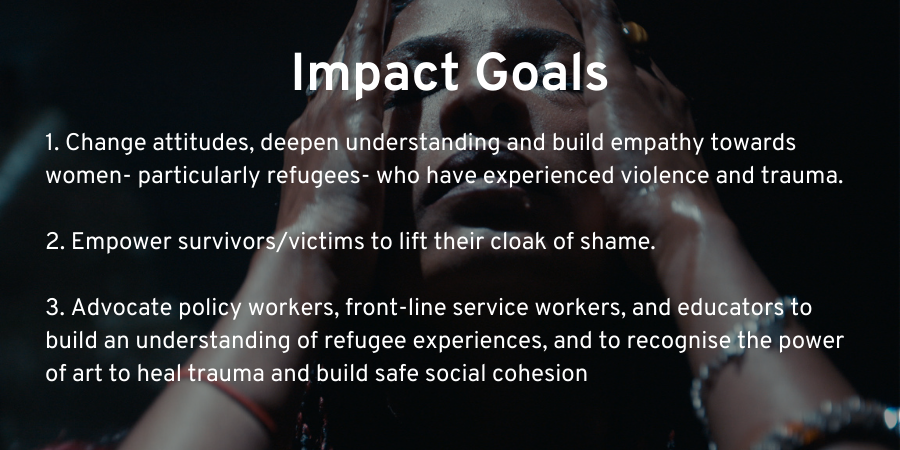 Partners and Allies
United Nations High Commission for Refugees
100 Women Charitable Foundation
Campaign Roll-out
In 2011, STARTTS reaches out to the women in the troupe.
March 2011: Ros Horin invites the women to weekly workshops and the play is devised.
May 2013: The play premiered in the Riverside Theatre in Parramatta, eventually having a five-week run in the Belvoir Theatre. 
2014: The play was put on hold to focus entirely on filmmaking, and then toured, even being invited to be the centrepiece of the Women Of The World Festival in the UK. 
June 2016- the film premiered in the 2016 Sydney Film Festival, as well as featuring in the Melbourne International Film Festival. 
October 2016- Australia-wide cinema release.
2017: Film extends internationally, being seen in Spain, Morocco, Indonesia, the United States, and Hong Kong. 
2020: Film screened across dozens of slums and diverse communities across India in partnership with the not-for-profit, Point of View.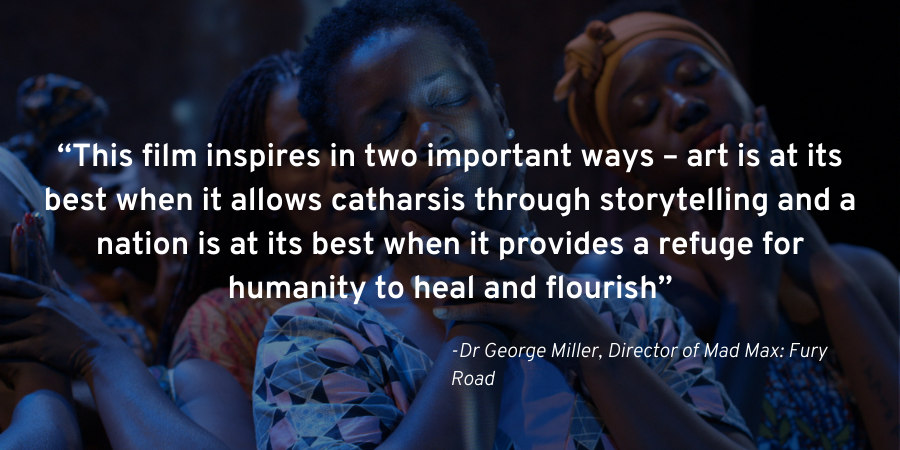 Reach and response 
The film has been broadcast 6 times via SBS and NITV, screened at 18 festivals around the world and had over 100 community screenings since 2016 with key refugee, community and advocacy organisations and groups.
It has also been distributed internationally and translated into Hindu.
The detail that touched audience members was the story-telling as a collective  tool for healing, and the women's acceptance from their own children through the film.
Audiences were deeply moved and touched by the stories of trauma, strength and acceptance that the four women shared. The film was described as inspiring and the women brave. 
While many found the film confronting, it was praised for the compassionate way the women's stories were shared. The film's messages of resilience and courage moved audiences who felt empowered by the collective story-telling and healing.
"This is an amazing documentary describing the journey of the four women who suffered torment and abuse before coming to Australia. Ros Horin has portrayed their plight in such a sensitive and compassionate way whilst revealing the horrendous abuse they suffered"
-Audience member.
Impact
The story of these four women has helped empower survivors of sexual assault: many audience members reported that the film empowered them to tell their own stories of trauma and abuse, some for the first time. At almost every performance of either the play or the film, one or more people shared their own experience. This has impacted positively on healing and dignity in these audience members. 
Thanks to the impact partners, the film has had hundreds of screenings, which helped change attitudes, deepen understanding, and build empathy.  
Helped shift victim-blaming narratives around rape, and instead created conversations around the nature of trauma and healing. 
Not-for-profit group Point of View, an Indian advocacy group, has held repeated screenings in many contexts across India. Director Nikita Patodia reported the value of the film in instigating discussions about the lived experience of sexual violence, and of healing. The film has had a positive impact in cultures that experience something similar, but are forbidden from talking about it, to instigate respectfully engage with the issues, ignite discussion, and begin the process of healing. It has also, as Patodia said, been vital in starting conversations about how patriarchal power-structures harm women and are reproduced. 
Educational and training resources have been developed for adolescent viewers, courts, emergency responders, medicos, and other front-line responders. 
It has been screened in many diverse contexts, and has inspired groups in regional Australia to help each other through storytelling. The film has increased compassion for refugee women and their experiences of trauma amongst its viewers (a topic which is rarely talked about). 
Guests at Q&A screenings frequently asked the women about their own process of healing, allowing them to explain that healing from trauma often takes a long time and to add to public understanding of trauma.
Continued awareness-raising happened in two spin-off programs, one focussing on Animata's story, and another on Yordy's journey of healing.
It has been shown to people working with immigrants, in order to increase their understanding around the trauma of rape, allowing them to work better with the needs of refugee women.