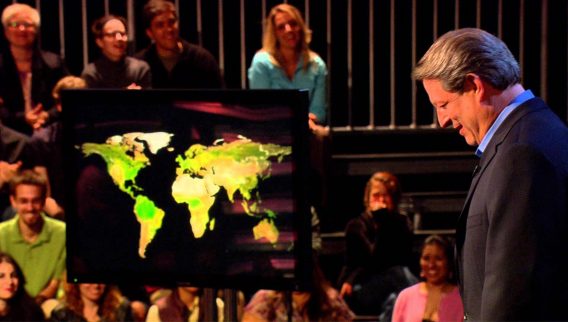 PUBLISHED19 Mar 2019
An Inconvenient Truth + Australian Conservation Foundation
An interview with Lucy Farmer from the Australian Conservation Foundation.
Synopsis
The Australian Conservation Foundation partnered with An Inconvenient Truth for its outreach and education strategy in Australia. They organised a range of high profile community, school and media supported promotions, which greatly increased the environmental awareness of the public, including the younger generations. One method they employed was to put together a climate action kit, engaging the audience and helping them take simple steps to make a difference on an individual level.
Through the association with ACF, the reach and effectiveness of the documentary was greatly enhanced.
Documentary Australia Foundation asked Lucy Farmer, Communications Director of ACF, to describe the partnership:
How did An Inconvenient Truth fit within the mission of ACF?
An Inconvenient Truth promotes greater awareness and understanding of climate change, what it means for our planet and our way of life. At the same time, it serves to inspire people to take action in their own lives and encourage those around them to do so also. Boosting people's awareness of our environment and the serious challenges we face is key to any activity undertaken by ACF and similarly, we seek to inspire Australians to work together towards a sustainable Australia.
How did ACF benefit by participating as the key outreach partner of the Australian release and distribution of the film An Inconvenient Truth?
ACF benefited in several ways:
• Close association with the film and therefore enhanced credibility through joint promotion and advertising
• Cinema advertising
• Exposure of ACF to new audiences
• Opportunity to form a relationship with tens of thousands more Australians
What are the learnings that have come out of the partnership?
As a result of the partnership we think more creatively to achieve win-win scenarios – in this case for the Australian distributors of An Inconvenient Truth, it was important to add some local relevance and an outlet for people who were motivated by the film to take action and help the environment in their own lives.
How effective has the outreach been to date?
To date, ACF has distributed 50,000 free climate action kits to Australians, and approximately half of these kits were requested via promotional cards distributed in association with An Inconvenient Truth, including in cinemas and video/DVD stores. As a result, 50,000 Australians are now better informed on the impacts of climate change in an Australian context, how they can make a difference in their own homes, and how they can communicate their concerns to political representatives.
How did the outreach program attract its target audience?
The program used the following tools:
• Jointly branded postcards distributed by Avant Card and cinema box offices promoting the film, offering handy tips for reducing energy use at home and encouraging people to order a free climate action kit from ACF
• Postcards distributed by major video/DVD chains around Australia promoting the DVD instead of the film at the cinema
• Free cinema advertising opportunities
Did ACF have the resources to manage and deliver the outputs required from the partnership?
The film promotion activities were managed within existing resources. At the end of An Inconvenient Truth, Al Gore undertakes to train 1,000 people to take his presentation out into the community, and ACF partnered with Al Gore to bring his training program to Australia (The Climate Project – Australia). This program required significant additional resources.
Do you have any evidence that the outcomes from the project have changed behaviours in the community?
In addition to the action kits and joint promotion around the film, ACF's partnership with Al Gore's The Climate Project has resulted in 84 Australians being trained by Al Gore to date with further training expected before the end of 2007. Each presenter is required to deliver 10 presentations over 12 months. At each presentation, the audience is able to request further climate information by filling out a postcard to receive a climate action kit. By June 2007, an estimated 40,000 Australians have attended a climate presentation.
Does ACF share its knowledge of outreach with other foundations?
Yes. ACF works with a range of foundations, other non-government organisations, businesses and the broader community.
Would you support documentaries again?
Don Henry, CEO of the ACF, has recognised the added value in working in partnership with documentary filmmakers and will continue to do so providing partner filmmakers acknowledge and support the issues being addressed by the ACF.
How do filmmakers approach you to work collaboratively?
In this case, the relationship was with the film's distributors and not with the filmmakers themselves. In the past, ACF has been directly approached by filmmakers to partner in promotional activities.
Lucy Farmer
Communications Director
Australian Conservation Foundation
Education Overview
Coming soon
Educational Resources
| | |
| --- | --- |
| Year Level | |
| Subjects | |
| Topics | |