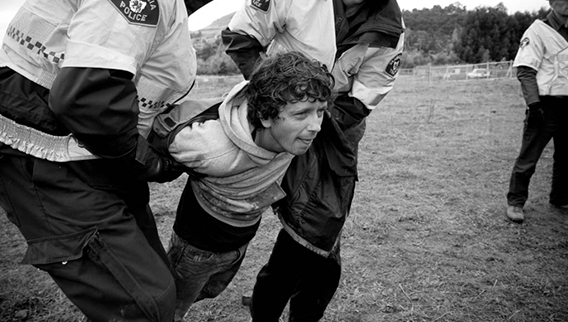 PUBLISHED26 Feb 2019
2019 Projects Supported by Documentary Australia
At Documentary Australia Foundation we are proud to support social change documentary films in their fundraising and partner building efforts. You too can get behind these films and ensure they are made, seen and have a positive impact. Make a donation or get in touch with the filmmakers directly via their campaign pages. In this last round (February 2019) we've approved 18 documentary projects for fiscal sponsorship, allowing filmmakers to accept philanthropic donations tax-effectively. Check out their fundraising and impact campaigns below. IMAGE ON PREVIOUS PAGE: QUILTY: A Portrait.
Will Australia Ever Have A Black Prime Minister?
Modern Australia prides itself on being a diverse, multicultural nation. And rightly so: in the last fifty years, this country has evolved from one where race defined it, to one where the colour of a person's skin is irrelevant. But how true is this? Is Australia really the land of the 'Fair Go' or one that still favours the fair-skinned? We're going to test this by asking a very simple question: Will Australia Ever Have a Black Prime Minister? The path to becoming a Prime Minister in Australia is a difficult one, forged through a series of educational, political, and social sliding doors – many much easier to open than others. But what are the odds of an Indigenous Australian realising the top job in Canberra, and how do Australia's institutions help or hinder that journey?
Queens of Concrete
A real life journey of discovery as three girls wrestle adolescence in pursuit of Olympic history. Queens of Concrete is a coming-of-age documentary, following three young skateboarders over five years. Hayley, Ava and Charlotte have their sights firmly fixed on competing in the 2020 Summer Olympics – the first ever Games to hold a skateboarding event. With just a few spots available on the Australian Olympic team, the pressure to impress the Olympic Committee is huge.
The Demo
The issue of refugees in Australia has been a hot topic for years. Elections have been fought over it, much of the mainstream media has been biased to the point of being hysterical. Refugees have been called illegal and blamed for everything from traffic jams to loss of jobs. Some Australians want to see the country's policy change. They're spending their time and their talents to to stand-up for what's right and to do their bit to raise awareness and motivate policy change.
Send in the Clowns
Send In The Clowns is an intimate look into the lives of the people who work as Clown Doctors and Elder Clowns, and the people they care for. We meet Doctors and Nurses and healthcare professionals. They were all skeptics once, now they ask Clown Doctors to attend special procedures, anything likely to be painful and protracted because they know a Clown Doctor helps.
Untitled Logan Documentary
In a tiny brick home in the working-class Queensland shire of Logan, lives a blended family like no-other: six of the Sharrock-Barnes clan live with a disability. Becky, 28, has an extraordinary gift that has attracted international attention: she remembers everything that has ever happened to her, in sequence, from the first day of her life to the present. And although her younger siblings aren't medical marvels, they all possess unique gifts.
I'll Be Frank
"Then there were the Hitler Youth, also in brown shirts with black short pants. They marched with bugle bands and long drums. I wanted very badly to grow up quickly so I could join them." -Frank Lucas "I'll Be Frank' recounts a young jewish boys experience of Nazi Germany paralleled with his grandson's immigration to Berlin 80 years later. Frank Lucas wrote a memoir at the age of 70, 'Some Memories Of My Life'.
The Afghan Bug
The Afghan Bug is an exploration of the motivations of Expats to live in the hostile foreign environment of Afghanistan and the impact of their actions on the local people. Why do some people risk their lives by living in conflict zones? The motivations are varying and different, but there is still some underlying 'bug' that calls them all to risk their lives in a conflict zone. The Afghan Bug takes a balanced cross section of the various types of people who entered the country during the Western intervention and reflects on their personal reasons for doing so.
I'm Not A Runner
Taking risks. A film, which engenders the concept of refusing to accept the pre-packaged version of "who you are, as determined by society and who you expected to be to fulfil the norms of society expectations." The film highlights the power and joy of trusting one's own body, and giving it the chance to show one what it can really achieve. "I can do anything; there are no limits. I won't let anybody else define me!" No doubt, most will agree with this sentiment.
Quilty: A Portrait
Ben Quilty has emerged as one of the leading artists of our generation. At the height of his powers, Quilty is an artist of force and character. Forty years ago, Brett Whitely was widely celebrated as Australia's most challenging contemporary artist. Following in his footsteps, Quilty has gained a public profile every bit as dynamic as Whiteley's.
The Greatest Menace
Homosexuality is the "greatest menace" facing Australia. Those were the words of the NSW Police Commissioner in 1958. Police agents rounded up gay men on the streets of Sydney and sent them to Cooma gaol, which the government boasted was only homosexual prison in the world. Meanwhile, an inquiry was launched into the "causes and treatment" of homosexuality and its subjects were found in the cells of Cooma gaol.
Meet the Wallers
Can love survive art and marriage? Mark Waller is a comfortable outsider in the art world. Growing up surfing in sleepy Lennox Head NSW, he couldn't care less if his pretty seaside paintings will never be hung in the galleries of Toorak or Darlinghurst. Then he falls for Nicole, vibrant, articulate and swept off her feet. They marry, get a mortgage, have two kids and life gets complicated. Nicole rails against the 'art world': because of who they are and where they come from her husband will never be chosen for fame and fortune. Her friends, with their nouveau riche tradie husbands, are all doing better than the Wallers. Real estate is booming.
Australia's 'other' reef – the Great Southern Reef
The Great Southern Reef (GSR) fringes over 8000 km of Australia's temperate southern coast, from Kalbarri, WA to Moreton Bay, QLD. Despite approximately 70% of Australians living nearby this interconnected reef system, few know what it's diverse environments look like and how important they are. The audience will journey the length of this spectacular coastline and reef, delving deeply into the stories and science that make this ecosystem so vital from an environmental, socio-economic, and cultural perspective. The fragility of humans' dependent relationship with natural environments is central to the storyline.
Pianos Forever
Australia was once the home of the largest number of pianos per person in the world. Currently traditional acoustic pianos are decaying all over the world and being replaced by the modern digital piano. Tasmanian piano tuner, Martin Tucker, refuses to accept the trend of the traditional piano disappearing forever and is passionate about keeping them restored and in use.
Ablaze
Imagine Australia today with no Indigenous cultures, languages and communities. This would be our present reality if government racial policies of the 1950s and 60s were enforced unopposed. Ablaze is the remarkable true story of an Aboriginal leader and a band of dedicated supporters who stood up to them and, against all odds, changed the course of history.
Water For Birds
As beauty and faith flow through India's spiritual hub of Varanasi, so to do exploitation and hopelessness. Water for Birds takes place in an alternative educational centre—amid Varanasi's red-light district—run by Guria, a non-profit organisation battling human trafficking and forced prostitution throughout North India.
Firestarter – The Story of Bangarra
In 2019, Australia's most iconic dance company celebrates its 30th anniversary. Tracking this pivotal year, Fire Starter tells the story of Bangarra Dance Theatre through the eyes of their long standing and charismatic artistic director, Stephen Page. A combination of intimate observational material shot during the anniversary year, candid interviews and a treasure trove of personal and company archive will reveal a story of triumph against all the odds. A stunning hybrid of factual and dramatic storytelling, the film will convey key moments in the Bangarra story in evocative dance sequences, exclusively choreographed and shot for the purpose of our narrative.
Triple Effect – Who Cares for the Carer?
TRIPLE EFFECT explores identity, love and relationships of the carers who gave up their dreams to care for those they love. Their patients are their nearest and dearest who are emergency service workers and veterans suffering from Post-Traumatic Stress Disorder (PTSD). The film follows the exploration of 3 individual carers who are now reawakening their dreams. Join them as they find ways forward to love, to care and still be free to find their identity and fulfil their own needs through self-care. The debilitation of PTSD of Triple Zero employees is rarely acknowledged and even less so is the impact it has on their carer's and their families.
The Art of Survival
The Art of Survival will follow a collection of artists around the globe, in their quest to come to terms with a history of abuse, serving as an intimate study of the relation between art and catharsis in survivors of childhood trauma. The film explores the reason for their work not only as a means of expression, but as tool for empowerment and advocacy. Gloria Steinem said, "The final stage of healing is using what happened to you to help others". This sentiment is never truer than in the work of artists.