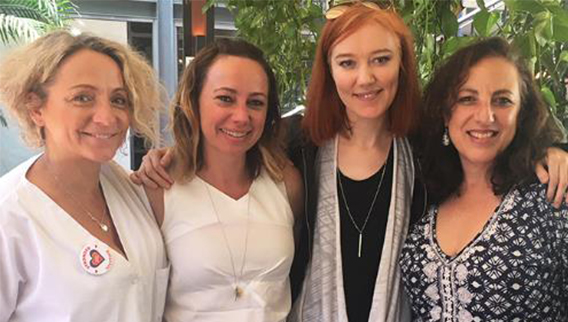 PUBLISHED20 Nov 2017
The learnings and journeys from SheDoc year one
Last year, together with CreateNSW and RØDE Microphones, we launched SheDoc - an initiative supporting female documentary filmmakers by offering funding to facilitate self-directed filmmaking opportunities.
We caught up with our three SheDoc recipients; Gemma Quilty, Justine Moyle and Georgia Quinn, and found out what they have been up to and what they've been learning since receiving the inaugural grant last year.
Gemma Quilty
I'm currently editing a showreel and writing the pitch document for the SBS 1 hour documentary strand Untold Australia due this week. The project is Operations from the Bottom. It follows Alex, a young African entrepreneur and his group of friends who have a dream to host the biggest dance parties in Western Sydney. I have been directing and shooting since March on the project and received development funding from Screen Australia.
I am very fortunate to be working with Tom Zubrycki, who is a great documentary producer and mentor. Yesterday Tom oversaw the edit of the Operations from the Bottom reel, where I learnt subtitling. Tom provides generous support during the more challenging parts of observational filmmaking e.g. When characters in the films are going through a difficult time.
Recently, I have been meeting regularly with the editor Kathryn Alley and assembling the Clippers documentary. Since this is my first professional project, I wasn't sure how to set it up professionally for an editor. Kathryn taught me how to organise footages to an industry standard. This has been very valuable and I'm currently using this knowledge to improve the workflow for Operations from the Bottom, including transcoding the footage to make editing smoother in the future edit. I'm also preparing a pitch to enter Clippers in the The Guardian & Screen Australia Online Documentary Initiative.
ICE in Parramatta are another great support, who give Western Sydney filmmakers the opportunity to access funding and pathways for development through their Hot Desks with Screen Australia and Create NSW. I've been a regular participant in their pitching sessions, including the ABC KIDS pitch and their recent networking night with SBS. Have also attended their workshops, including the Screen Australia budgeting workshop.
I'm also enjoying volunteering on the Ozdox committee, who run documentary forums and stream events each month at AFTRS, and am looking forward to attending AIDC 2018 in Melbourne.
I can't thank the donors enough for the She Doc grant. The SheDoc funds kept me going during the research and development stage when I had no funding, and I'm so grateful for that.

Image: Clippers
---
Justine Moyle
After receiving the SheDoc grant last year I went to LA and spent 6 weeks with director Lucy Walker and her producer Julian Cautherely and their team. I got to work with them both on my treatment and sizzle reel. I got amazing advice, help with writing, and got invaluable access to Lucy's director mind. I was then able to use that to submit to Screen Australia for development funding – I'm still waiting on that result.
I then did some great filming with one of my characters Poppy, both in Encinitas and in Huntington beach. I filmed at Poppy's best friend's house – Brighton Zeuner – who's the youngest person ever to win a gold medal at XGames at 13 years of age. She's the first girl to also be sponsored by Red Bull.
I sat in on offlines for Lucy Walker's latest film which is about Blake Mycoskie, who is founder of TOM's shoes. We went to shoot and interview at TOM's main office in Marina del Ray and I met with other filmmakers through Lucy's office as well as my own connections.
I worked with Nick Higgins – who recently had an Emmy nomination for OJ Made in America for best cinematography.
I worked out of Charlies for a few days which was an awesome experience, going on to the lot at Raleigh Studios and feeling a part of the Australian film community there.
I went to NYC on a director's attachment with Lucy to film City Symphony – this was an awesome experience to get to see Lucy Walker work in an observational-doc environment, and see how she got those pictures.
It was an incredible experience to see them work from conception through to edit and delivery; where the idea started out from to the assembly and then the work as a finished piece.
All in all, it was a super informative and awesome experience and I can't thank the donors enough for the support and DAF for the opportunity.
 Image: Moyle's art directed shot on TOM's set.
---
Georgia Quinn
It's become a lot harder for stories to be commissioned by Al Jazeera, so my mentor Yaara has been working on news stories overseas lately. However, she is back in Sydney at the moment and I've been able to spend some great time with her. Over the past few months I've been chasing leads and doing Skype pre-interviews with potential subjects for a documentary, and I also helped Yaara on a few news shoots.
At the moment, we're looking at a story about the Pacific Climate Warriors, who are journeying to Bonn for COP23 to ensure that the Pacific Islands voice is heard at the climate talks. I Skyped our key subject last week and Yaara is keen on his story, so I'm writing a short pitch for us to Al Jaz. However, obviously there are a lot of variables with these sorts of things actually getting off the ground, so we have our eggs in a few baskets.
We're also looking at a few projects together outside of Al Jaz that she could EP for me, and we're likely to apply for the Screen Aus/The Guardian current funding for online docos. Exciting things are definitely in the works and I'll have lots more to report on once things become more concrete. I know that none of this would be possible without the generous SheDoc supporters and I have endless thanks for being granted this opportunity.
 Image: Pacific Climate Warriors
---