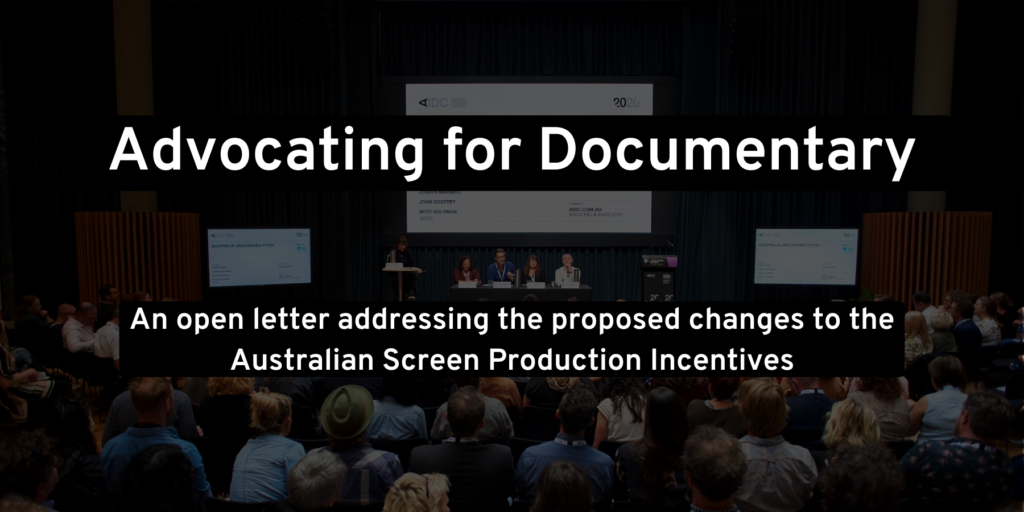 Documentary Australia is committed to supporting the documentary sector in Australia.
The proposed changes to the Australian Screen Production Incentives, scheduled to come into effect on 1 July 2021, have the potential to significantly impact unique Australian stories being made and seen. In support of the sector, Documentary Australia has prepared the open letter below and is advocating for documentary to be protected.
---
Open Letter
The Hon. Paul Fletcher, MP
Minister for Communications
Dear Minister,
Re. Proposed changes to the Australian Screen Production Incentives
We write in regard to the proposed changes to the Australian Screen Production Incentives. The recent proposals to change communications and media policy in Australia are an opportunity to forge the next wave of successful Australian film and television and to set local media production on a strong foundation.
However, we are deeply concerned that a number of the proposed changes will have unintended consequences likely to devastate documentary feature films and core strands of documentary television production in Australia. If implemented, these changes will prevent many important, quality documentaries that capture our unique Australian stories (for a local and global audience) from being made.
While we welcome the overall intent of the announced changes, we believe minor changes to the proposals with respect to documentary will prevent extensive negative impacts. Left unaddressed, these outcomes would seriously disrupt established businesses, diminish regional, Indigenous and minority voices and result in a considerable cultural loss to the nation.
Specifically, we are concerned about the impacts of:
– Increasing the Producer Offset minimum qualifying Australian production expenditure (QAPE) threshold from $500,000 for feature length content to $1M.
– Removing the Gallipoli Clause, which permits some costs (such as Australian crew wages) incurred outside of Australia to be claimed as QAPE.
Increasing the Producer Offset minimum QAPE threshold to $1M
The majority of Australian documentary feature films have a budget below $1M, while still attracting significant national and international audiences. Increasing the threshold for QAPE would effectively wipe out a significant proportion of documentary films that are already proving their quality and appeal around the world.
On average, over the last three financial years (2017/18 – 2019/20), for theatrical release features, 97% of the 51 Screen Australia funded drama features had budgets over $1million in comparison to only 42% of Screen Australia funded documentary features.
These figures reflect how the proposed change in legislation will disproportionately affect quality documentary films currently being made through the support of Screen Australia. There is a significant risk that the 58% of documentaries being made with budgets less than $1M will not be made at all, if these proposed changes to the QAPE threshold are brought in. To put this in perspective, the award-winning documentaries Backtrack Boys, Gurrumul and In My Blood It Runs would not have been able to be made if the increased QAPE threshold had been in place.
Overall, the average cost per commercial broadcast hour 1 for single documentary, including features, was significantly less than the proposed $1 million threshold as follows*:
– 2018/19 – Average $589,460 per hour
– 2017/18 – Average $511,494 per hour
– 2016/17 – Average $643,714 per hour
Over the last five years, the average cost per hour adjusted to 2019 dollars was $551,917. This is consistent with current Documentary Australia data indicating that documentaries in development and production have an average budget of $618K.
Recommendation: Maintain existing minimum budget threshold of $500,000 for one-off, feature documentaries.
Removing the Gallipoli clause
The removal of the Gallipoli Clause in the context of documentary will have the unintended effect of disincentivising the employment of Australian crew. By removing these kinds of expenses from QAPE, producers are more likely to employ cheaper foreign crews. This iscounter to the intended effects of the change, which is to provide greater employment opportunities for Australian production crews. In addition, it will make it more difficult to include international elements in Australian documentaries, disincentivising international funding and co-production partners from coming on board.
In the same way that the unique form of documentary means their production budgets are often different to feature films, their particulars of their production are also distinct. By their nature, documentaries need to be filmed in the locations where the stories occur. While a feature drama may be able to shoot a story set in Miami on a Queensland beach, this is not possible with documentary without undermining the veracity of the story.
Many Australian produced documentaries are stories with international elements, which require some parts of filming in overseas locations. Internationally recognised and award- winning documentaries such as The Surgery Ship and Firestarter were able to employ Australian crews on their international shoots because of the Gallipoli clause, creating jobs for the Australian screen industry. Similar rebates exist across the globe in other countries because of the proven benefits.
The removal of this clause will disincentivise the employment of Australian crew on documentary films and divert employment and budget spend to international crews.
Maintaining the Gallipoli clause will allow documentaries to continue to include international dimensions, appealing to international funding and co-production partners, while also employing Australian crew.
Recommendation: Maintain the Gallipoli clause for documentary productions.

Documentaries occupy a unique intersection in our cultural landscape; offering entertainment, historical record and artistic expression while presenting distinctive Australian stories, told by Australian voices. Their unique status is reflected in the way they are made; usually over many years, in a range of places and often on modest budgets. Documentary is a form of production that has particular needs quite different to any drama feature films and cannot be treated in the same way.
We ask that their unique characteristics and specific needs are reflected in how they are supported by the Australian Screen Production Incentives. This will ensure the form continues to thrive locally and internationally as sustainable businesses that contribute enormously to our national story.
Sincerely,
Documentary Australia
---
Download a template letter for Senators
Read more about the proposed changes to the Australian screen producing incentives and our open letter below:
– Save the Doc – Article here.
– Documentary Australia calls for government to consider documentary separately in offset reform – Article here.
– Defunding feature documentaries – the numbers behind the rage – Article here.
– Documentary Australia urges Oz gov't to protect feature docs. Article here.
– Feature documentary makers in desperate fight to protect funding – Article here.
---
* The cost per broadcast hour mentions in this letter refers to the average cost per broadcast hour for all documentary singles, including documentaries over 15 minutes and features that were released theatrically, via festivals, online or via TV broadcast